The Cincinnati Rollergirls end their ninth season at the Cincinnati Gardens on Saturday, May 30 with a double-header against the Fort Wayne Derby Girls and the team's annual Fan Appreciation Night. Tank previews the action.

The final game of the Cincinnati Rollergirls home season is upon us this Saturday night. These games often remind of the song Landslide by Fleetwood Mac when Stevie Nicks sings "But time makes you older/even children get bolder/and I'm getting older too/Oh, I'm getting older too."
While it's not the end of the season as a whole, it's always a weird feeling when the home season comes to an end. The gates to the (still-for-sale) Cincinnati Gardens close for another year, and at least a few of the skaters end up retiring that night. I often find myself wondering, "Am I ever going to see the inside of this building again? Will I ever see that skater again?" Make no mistake about it; it is a very emotionally heavy day.
The Black Sheep are 3-4 on the season (3-3 in sanctioned play) and are currently riding a two-game losing streak. To be fair, though, those losses were to Burning River, who for the first time in their nearly decade-long existence have started to find some real, much-deserved success, and Naptown, who have been a perennial Midwest powerhouse for years. The last time I watched the Sheep in action was against Twin City's Evil Twins in a game that the Sheep won 191-145 after trailing in the first half. In that game, Cincinnati proved once again that they are a second half team that knows how to adjust at halftime.
Going into this game against Fort Wayne, I am very intrigued by the Black Sheep roster. Transfer Ellie Stab'er is again on the roster for this game and I am looking forward to seeing what she can do with the jammer star, as she has the ability to stay calm in even the most hectic, violent packs. Rookie Royal T (above) joins the Sheep as well in this game, and I am very excited to see what she can do on the A team level. The first time I saw her I was amazed by her footwork, and once she gets comfortable with the speed of the game at its highest level, I think she is going to be a huge asset to this team.
Finally, Jennocide has been added to this Black Sheep roster, which gives them even more brawn to beat people up with. She is great at breaking the opposing jammers' spirits by hitting them incredibly hard anytime they are within a few feet from her and she has the strength to be a valuable asset when combining with other skaters in a wall.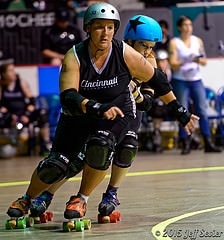 The Lambs continue to chew bubble gum and kick ass and they have been out of bubble gum since the first game. They are 5-0 and continue to smash through anyone that is put in front of them, and I don't see that changing anytime soon. This game is going to have some extra emotion poured into it, as it will be the last CRG game for Cincy Psych-O (left) and Ruthless Chris (right). This game will also feature the return of Tru D. Vicious from injury. She was one of the brightest stars of last year and will be getting some much needed reps in this game as she works her way back onto the Black Sheep.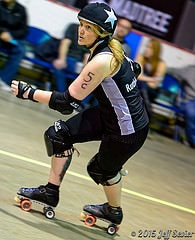 As the sun prepares to set on another CRG home season, the team will begin to prep for the travel season. Currently the team has two dates on their dance card for June. On the 13th, they'll be traveling to Nashville, and on the 20th they head to New Orleans for the first time to take on the Big Easy Rollergirls. It would be great to see a 4-4 Black Sheep team going into this game instead of a 3-5 squad, but we won't know what the future holds until after this Saturday night.
-Tank
CRG's Fan Appreciation Night also features:
• The usual free parking, tailgating and $1 beer happy hour from 5-6 p.m.
• $1 hot dogs all night
• End-of-season clearance sale with official CRG merch for as low as 25 cents
• Thank-you gifts from skaters hand-delivered to fans
Plus, the Gardens will be opening up its famous Legends Museum filled with Cincinnati sports memorabilia to CRG fans!
For tickets and more information, click here.
Can't make the game? Watch ICRCTV's Livestream Presented by Tom + Chee here.
---
Cincinnati Black Sheep vs. Fort Wayne Bomb Squad (6 p.m.)
Black Sheep: Anne Bones 77 // Ellie Stab'er 631 // Hannah Barbaric 85 // Jas Hubbard 135 // Jennocide 14 // Kitten Kicker 30 // La Bruja 66 // Macrum 93 // MIRDERHER 44 // Nuk'em 86 // Penn Tupanga 360 // Royal T 533 // Sailor Scary 92 // Sk8 Crime 50 // Alternate: Pistol Whippin' Wendy 38
Bomb Squad: 003 Buttercup // 105 Majestic // 119 Kellie Adkins // 121 Rachel Tension // 313 Dr. G // 317 Wright // 360 Boomerang // 42 Carrie Baker // 626 Speedin' Bayou // 69 PushyCat // 6FT Enya Grave // 721 Lahapa // 9 Feline Frenzy // B52 Dodger L. Bows
---
Cincinnati Violent Lambs vs. Fort Wayne SWAT Team (approx. 7:45 p.m.)
Violent Lambs: Annie Tomical 91 // Big Ugly 72 // Cherry Choke 0 // Cincy Psych-O 22 // Hot Slice 71 // ¡I, Caramba 23 // Jillian Dollaz 14 // Pistol Whippin' Wendy 38 // Polly Rocket 63 // Poppy Chulo 27 // Ruthless Chris 5 // Sista Shovechild 2 // Tru D. Vicious 19 // V.C. 96 // Alternate: Karli Hustle 41
SWAT Team: 00 Legs Fordays // 007 Shaken not Stirred // 119 Adkins // 16 Oreo SlamHer // 22 Jungle McLuvin' // 313 Dr. G // 314 Pierce // 35 Mindi Dabutcherknife // 360 Boomerang // 469 B'Jonezin // 6 Geisha // 721 Lahapa // 80D Maddie Warbuck$ // 9 Feline Frenzy // Alternates: // B52 Dodger L'Bows // 42 Baker