I'm not going to bury the lead: it's rivalry week here in Cincinnati. No, I'm not talking about the Crosstown Shootout; I'm talking about the annual Crosstown Knockdown between the Cincinnati Rollergirls and Northern Kentucky's Black-n-Bluegrass Rollergirls. These teams have played each other a number of times over the past decade and look to add another chapter to their shared story this Saturday, April 28, also CRG's annual Star Wars Night.

CRG has dominated this rivalry, winning every game that these two teams have ever played in. Last year, CRG's B team, the Violent Lambs, won 169-131 on Black-n-Bluegrass's turf, and in this year's seventh annual Crosstown Knockdown, Cincinnati again will have the Violent Lambs representing them.
There has been some interesting changes to both teams this year. On the Black-n-Bluegrass side, their best jammer, Neva Shakeababy, has retired. It's likely that Krumple Killsten will see lots of time on the jammer line because of this, with backup from a range of other skaters wearing the star.
Cincinnati will likely try a lot of different people at the jammer position in this game as well. Last year Doom took home MVP jamming honors in the CTKD, and we could see her going for back-to-back awards this year. We'll likely also see Little Bull, Mae Murder, Poppy Chulo and Princess Derby jamming as well.
Philosophers have debated for years if something can exist without its opposite. How could you know joy if you have never experienced pain? How would you be able to experience the euphoric rush of victory without knowing crushing blow of defeat? How could a Light Side exist without a Dark Side? Luckily for all of us, it can't, and that means we are in for a real treat this Saturday for Star Wars Night. CRG skaters of all skill and experience levels have been shuffled up for this game and will face off against each other in an intergalactic conflict bout.
One of the things that I love about these bouts where the CRG lineups get split down the middle is the 50/50 matchup it generally creates. The league wants to make sure you get your money's worth, and the players want to play in a challenging, close game that they both have a chance to win.
We're going to get to see Jas Hubbard and Royal T (Light Side) take the line against skaters like Wheezy and Sailor Scary (Dark Side). And there are bound to be many fun moments in the pack as I, Caramba!, Kitten Kicker and Crum will end up in packs against Ellie Stab'er, Jillian Dollaz and Train N Pain. This game will also mark the first time that Hail Skatin, Moreno Mauler and Paingry will suit up at Schmidt.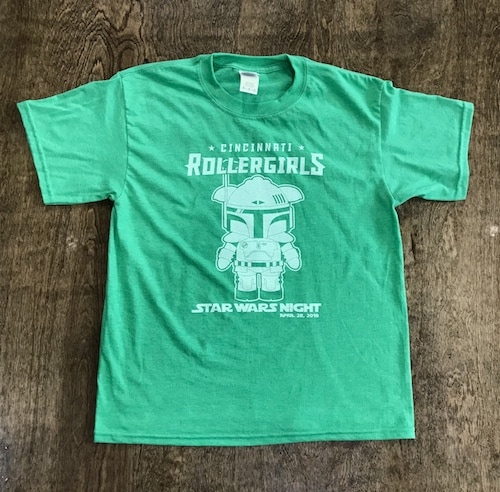 Saturday night is going to be a lot of fun both in terms of competition and the theme of the night. We encourage everyone to dress up in their favorite Star Wars cosplay for the game, so put on your finest Storm Trooper armor and join us.
-Tank
For more information about Star Wars Night — which features a lightsaber giveaway for kids, limited edition Star Wars Night T-shirts, costumed Star Wars characters and more — and to buy tickets, click here.
Haven't been to a CRG game at Schmidt yet? Read our game day tips.
---
CRG Violent Lambs vs. Black-n-Bluegrass (6 p.m.)
Violent Lambs: 13 – Little Bull // 15 – Mae Murder // 16 – Garden of Beatin // 21 – Ada Burnlace // 23 – I, Caramba! // 26 – Mama Crass // 27 – Poppy Chulo // 34 – Jillian Dollaz // 4 – Loko // 626 – Noah Pologies // 63 – Princess Derby // 713 – The Slayer // 79 – Train N Pain // 8 – Doom // 89 – Hustle // Alternates: 154 – Crystal Whip // 18 – Scrappy Sue
Black-n-Bluegrass: 0 – Lefty Lou // 11 – Briggs N. Smackem // 14 – Donny Brook // 1428 – O'Doyle Rulz // 27 – Billie Bitchslap // 32 – Mae Fever // 511 – Pretty n Pink // 6 – MellKat // 61 – Mickey Mouth // 64 – Raging Femifist // 7 – Krumple Killstein // 716 – Psyk Ward // 719 – Brick Huss // 8 – Silverose // 85 – Willy Wonker // Alternate: 131 – Tank
---
CRG Light Side vs. CRG Dark Side (8 p.m.)
Light Side: 135 – Jas Hubbard // 15 – Mae Murder // 18 – Scrappy Sue // 21- Ada Burnlace // 23 – I, Caramba! // 24 – Moreno Mauler // 27 – Poppy Chulo // 30 – Kitten Kicker // 533 – Royal T // 63 – Princess Derby // 713 – The Slayer // 83 – Jungle Lacy // 89 – Hustle // 9 – CleoPAINtra // 93 – Crum
Dark Side: 13 – Little Bull // 154 – Crystal Whip // 16 – Garden of Beatin // 26 – Mama Crass // 29 – REDRUM // 34 – Jillian Dollaz // 4 – Loko // 43 – Wheezy // 626 – Noah Pologies // 6313 – Ellie Stab'er // 666 – Hail Skatin // 72 – Paingry // 79 – Train N Pain // 8 – Doom // 92 – Sailor Scary