According to the Chinese calendar, 2015 is the Year of the Sheep. And 2016 will mark the 10th anniversary of the Cincinnati Rollergirls.

Needless to say, this means there's a renewed fervor to your favorite roller derby team. Practice attendance is higher, packs form faster and even conditioning is a little more…joyful. There's a tangible excitement and hope for what this season will bring. But amid all of the toe stops, packs and planning is a unique group: Skaters who have played a Decade of Derby.
Meet CRG's elite club: CandyKICKass, Cherry Choke, Hannah Barbaric (right), MIRDERHER and Polly Rocket. These women have seen more changes than Cher's stylist. They've weathered more transition than a newborn country. Despite all of this, they're still playing – and they're ready to talk.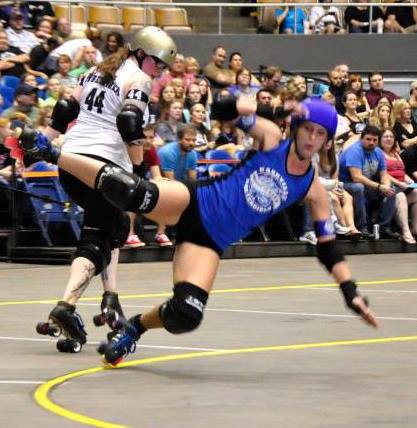 "In 2006 we wore outrageous boutfits, face paint, dubbed ourselves with alter ego names," said MIRDERHER (left). "Proclaimed if we were a good guy, or a bad guy, and tried to get our fans invested in our personas. Today, a lot of girls are changing their derby names to their real names, and I guess it comes with the world of derby still struggling to be taken as a real sport."
It's true that roller derby has grown and changed more in 10 years than most mainstream sports do in a lifetime. Almost every season, WFTDA, the governing body of flat track roller derby, releases its rule revisions, and even before they're public, the speculation starts. "Do you think they'll simplify the penalty system?" "Will they somehow speed the game back up?"
While some of the skaters interviewed said they missed the speed of the game, they noted that they have to put much more thought into the current iteration of their sport.
"This version of the game is so much more athletic and exciting. It's not as fast and maybe to the untrained eye isn't as exciting for that reason, but I know how difficult it is to be good at roller derby now," Hannah said.
With those adjustments came a swift change of direction that challenged every skater in different ways.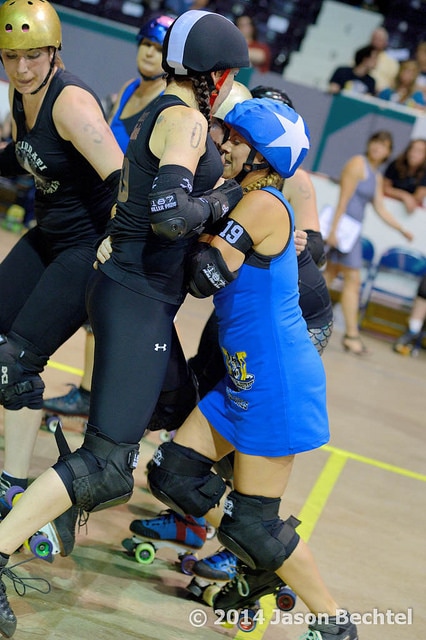 "The hardest thing for me to adapt to was the shift from the fast game to the slow game that the sport underwent a few seasons ago. Not only did it necessitate an overall change in strategy, but it seemed that all of my skating weaknesses were magnified by the slower pace," said Cherry (right).
In the same vein as Cherry, Polly Rocket took an extended leave for one season, and came back to find the sport was completely remodeled. "I want to get back up to being a leader on the track again. I feel like my season off made me 'less smart' on the track."
For many in the sport, these kinds of abrupt changes are challenging, but for all of CRG's Decade of Derby players, there are much larger elements at play that get them to return every year.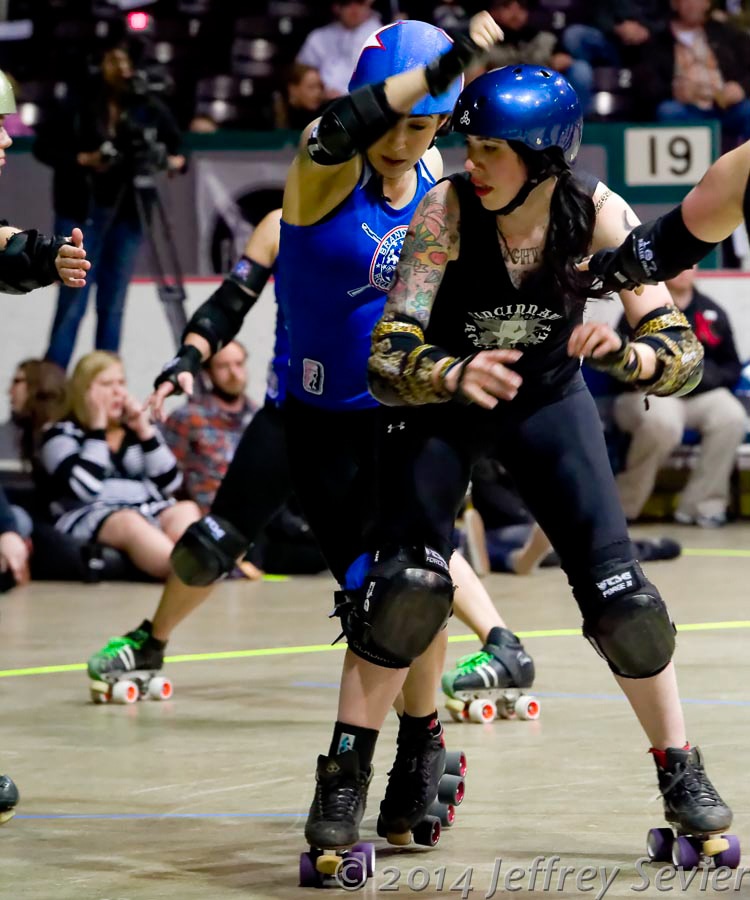 "I have an intense passion for the sport and for my teammates. I've left my blood, sweat and tears on our track and I am proud to know that I played a part in building CRG," said Candy (left).
Cherry described her loyalty to CRG as being "brand equity," saying, "I started out with CRG, and I honestly cannot see myself skating with any other team. It was the first group I had ever been involved with where I felt completely accepted (despite the fact that I couldn't even stand up on skates when I started)."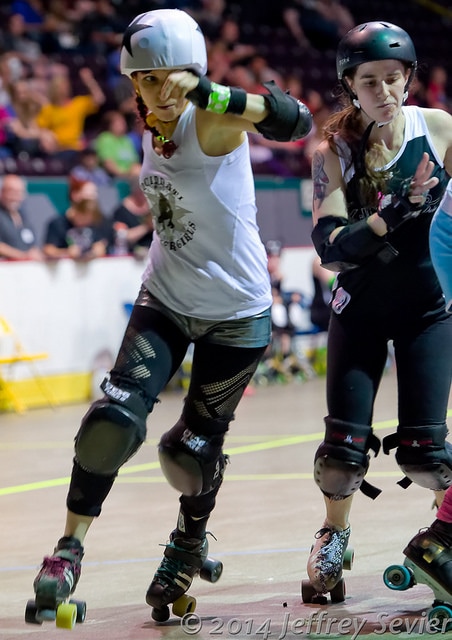 Sometimes I used to question why I returned," said Polly (right). "I thought I'd do all these other things [in my free time], but then I realized there were no other things!"
With 2014 behind them, the infectious energy that's been hanging around CRG has definitely been in part due to the excitement of their experienced skaters. When asked about their goals for 2015, every skater stated personal and team goals that they were hoping to accomplish. And perhaps that's the key to what makes these women return, year after year. They are still in love with the game and their team.
"Now 10 seasons later, six years sober and knees made of glass, CRG is always home," MIRDERHER said.
Welcome your Cincinnati Rollergirls home to the Cincinnati Gardens on March 14 as they take on NEO Roller Derby. Chances are, you'll see some familiar faces there that aren't going anywhere.
-Karli Hustle
For tickets and more information about CRG's home opener, click here.