The Cincinnati Rollergirls opened their seventh season on Feb. 18 with two wins against their longtime regional rivals, the Grand Raggidy Roller Girls, in Grand Rapids.
The Cincinnati Rollergirls Black Sheep, ranked 8th in the Women's Flat Track Derby Association's North Central Region, have played more sanctioned games against the No. 11 Grand Raggidy All-Stars than any other opponent in their seven-year history: One game at the Cincinnati Gardens, three games in Grand Rapids, and two tournament meetings. The Black Sheep have come out on the smiling side of the scoreboard in all five of the previous meetings, and Saturday's sixth episode was no different.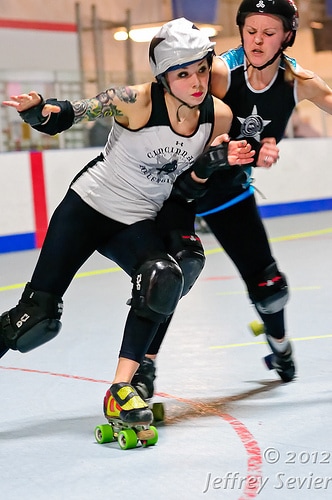 Grand Raggidy's All-Stars have improved significantly in the year and a half since their last meeting with the Black Sheep, going 9-4 last season with some impressive wins, including a victory over Milwaukee's Brewcity Bruisers last August. They showed some of their new swagger on Saturday, jumping out a 30-plus point lead early in the first 10 minutes, stifling Cincinnati's jammers with excellent recycling, and confusing Cincinnati's blockers with a number of different, innovative jam starting techniques.
The Black Sheep took a timeout to reset about halfway into the first half. Clearly adjusting to Grand Raggidy's different jam starts, and displaying new-found pack discipline and teamwork, Cincinnati got some momentum of their own, ending the half on a 24-0 tear. By halftime, Grand Raggidy's lead was cut to 5 points.
After halftime, the Black Sheep continued the momentum where they left off, taking the lead early in the half and never looking back. Penalty trouble dogged Grand Raggidy throughout, and in the second half, the Black Sheep were able to take advantage with the help of a 20-point jam by K. Lethal, a 19-point jam by Wheezy and two 15-point jams by candyKICKass.
Grand Raggidy put on a fierce burst in the closing minutes but ultimately fell short of finally taking down their rivals from Cincinnati. The Black Sheep took a win away from their first official game of 2012, 140-116, and the Black Sheep improved to 6-0 in the longstanding rivalry. To see photos from the game, click here.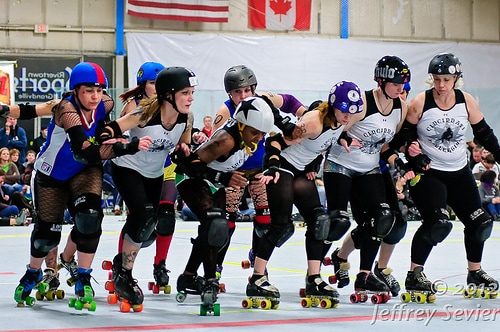 In the opening 60-minute match-up between Cincinnati's Violent Lambs and Grand Raggidy's G-Rap Attack, the Lambs dominated game play, ending the half with an 84-51 lead and finishing 173-116. To see photos from the game, click here.
Cincinnati's next game is the team's March 10 home opener vs. the No. 6 Arch Rival Roller Girls (St. Louis, MO), who beat the Black Sheep 138-98 at the WFTDA North Central playoffs last fall. Tickets are available the Cincinnati Gardens box office (open 10 a.m.-5 p.m. Monday-Friday), at all Ticketmaster outlets including select Kroger stores, charge by phone at 800-745-3000 or online at Ticketmaster.com.