On second thought, definitely call it a comeback! This August, the Cincinnati Rollergirls Black Sheep return to WFTDA Playoffs after a two-year absence. Their road back was long and winding, fraught with big challenges and big changes.

The team that emerged from that successful rebuild is vastly different from the CRG of the past. Their return to the post-season this year is the culmination of a concerted team effort, a flood of blood, sweat and tears, and an innovative approach to a revolutionary sport. Still, it's just the beginning of a great comeback story.
The Rise and Fall
In July 2008, the Cincinnati Rollergirls beat the Carolina Rollergirls, who were at the time the #3 ranked WFTDA team in the country. Cincinnati rose as high as 14th on DNN's Power Rankings in 2010, after coming within 25 and 22 points respectively of earning a spot at WFTDA Championships in back-to-back games against Windy City and Madison. The Black Sheep were perennial contenders, a team that no one wanted to play, and every year it seemed that the road to WFTDA Champs in the North Central region went through Cincinnati.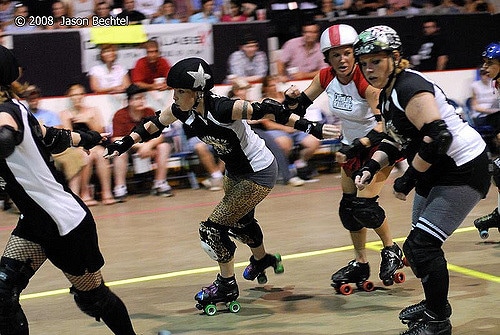 CRG's Hannah Barbaric and Sista Sacralicious playing against the Carolina Rollergirls at the Cincinnati Gardens, July 2008
Then, in 2013, the wheels came off. After a last-jam victory in the opening game of D1 Playoffs in Fort Wayne, the Black Sheep lost back-to-back games to Denver by over 350 points and to Rose City by almost 300. Both were the biggest losses (by a lot) in the team's history. Those huge losses induced a nightmare losing streak of 18 straight sanctioned games that lasted over a year with an average margin of defeat of 189 points.
The crisis facing the league had been building for a few years. The Black Sheep were losing their competitive edge, getting out-played more frequently by a new wave of athletic teams utilizing complex strategies. There were discipline and public relations issues. The morale of the team was at an all-time low, and confidence in leadership at every level was slipping.
Starting from the Bottom
Starting in December 2013, CRG began a rebuilding process that went through the entire organization from top to bottom. After a massive turnover, there was a complete overhaul of the league's leadership structure. Training focused exclusively on long-term goals at the expense of short-term success. Guest coaches were called in to generate new ideas. Athleticism and new fundamental skills were the cornerstones of a sport that seemed to have passed Cincinnati by. In order to catch back up, CRG would have to build a whole new foundation, an agonizing renovation project with a sledgehammer and a lot of dirty work.
After relying mainly on a risky, two-jammer rotation for most of the 2013 season, the mantra for the 2014 season was "Everyone jams!" At BrewHaHa that year, the Black Sheep fielded eight different jammers in two different games. During the course of that season, more than 22 different players were at some point rostered on the Black Sheep. The team was constantly in flux, as new players gained game experience, and veterans had to learn a new way to play the sport.
The 2014 season was a painful, soul-sucking test of wills for Cincinnati. The once feared Black Sheep slipped all the way from 32 to 98 in the WFTDA rankings with an 0-15 record in sanctioned play. Heartbreak can't begin to describe that plunge, but somehow, the team didn't panic. They stayed the course.
Hannah Barbaric, Cincinnati Rollergirls' Operations Director and a Black Sheep veteran, joined the team in 2007 when the team was just starting to make their mark. She talked about her elation when the team was on the rise, and how challenging it was to weather the storm during the fall.
"This has been the best and worst ten years of my life—so many ups and downs," she said. "When I started, we were on top of the world. By the end of that season [2014], I hated derby. I'm glad I stuck with it, though. Seeing how much we've accomplished this year by doing things the right way, I really couldn't be more proud. It was Hell sometimes, but it was worth it."
The Blueprint
Things began to turn around for the Black Sheep at their home opener in 2015. They won their first game in more than a year by over 200 points in what looked like more of an emphatic announcement than a moral victory. With new life, they muscled through 2015, and finished ranked 70th, with a winning 5-4 record in sanctioned play.
Though they were in a perfect position to make a run at Division 2 in 2016, it became evident that rising back up the rankings was going to be a slower process than falling down them.
In the offseason, Cincinnati set about building a season that would finally get them back into Playoffs. In her first year as inter-league coordinator (ILC), second-year Black Sheep blocker Macrum and head coach Quad Almighty researched the most mathematically advantageous rankings match-ups for Cincinnati. They created a spreadsheet that combined three documents: the latest
WFTDA rankings
, the
WFTDA rankings calculator
and the
Flat Track Stats Bout Predictor Tool
.
"I used our magical Excel spreadsheet to determine the extreme ranges of ranked opponents that could help us if we met expectation according to Flat Track Stats," said Macrum. "We were confident that we could beat expectation in most of our games, so estimating ranking points of opponents based on expectation made for fairly low-risk matches."
From there, she hounded every single ILC from every team ranked in that sweet spot in order to schedule games advantageous to their ranking. Cincinnati's coaches started experimenting with live game statistics during the 2015 season and amped up this innovation for 2016.
Beckett, a full-time statistician, would track jammer escape times and differentials for both teams live, as well as several other metrics that would give the bench maximum information to exploit every statistical advantage during the game. She also tracked ranking points live so the bench coaches could maximize decisions based on real-time ranking information.
"For most of the season, you could find me stooped over Beckett's laptop, and the team became so obsessed with the ranking points on that spreadsheet that the actual scoreboard score was a second-thought, at best," head coach Quad Almighty said.
CRG Coach Quad Almighty talks to the Black Sheep during a time out
Playoffs was the destination, each game was a stepping stone and ranking points were the coordinates.
Cincinnati's coaches also incorporated a new Training Committee made up of four skaters to comb through every minute of every practice, maximize practice time, and take better advantage of skaters' specific talents.
"Our skaters have incredible talent and depth," said Training Committee member and Black Sheep blocker Jillian Dollaz. "We wanted to foster and encourage all skaters to share their moves with the rest of the team, matching skaters' drills with our thematic goals."
The table was set with a slate of games that would maximize Cincinnati's opportunity to rise up the rankings, an improved training program and a game plan based on playing smart and playing by the numbers — or as Training Committee member and founding CRG skater Mirderher called it, "Big Brain Derby." All that was left to do was the hard part: go out on the track and earn a place among WFTDA's best.
2016: The Reboot
Capping off two full years of rebuilding that encompassed every facet of the league, Cincinnati started their 2016 season with a new outlook and a
new logo
.
"The rebranding effort came at a perfect time," said Mama Crass, Marketing and PR Director for CRG. "Not only was it the league's 10-year anniversary, but it allowed us to shine a bright light on where we started, the past couple years of rebuilding, and most importantly where we wanted to go."
The image of the crown, an homage to the Queen City, and a new slogan, "We Will Reign," reflected the league's' newfound determination and optimism.
In March, the Black Sheep won their first test of the 2016 campaign, their home opener at the Cincinnati Gardens against 76th ranked Roc City (Rochester, NY), 233-167, in front of 1,400 fans. The ranking score of 302.36 was well above their previous 252-point average, but would actually prove to be their second lowest ranking score of 2016 as the team began its steady rise up the rankings.
Next up were the 2015 D2 finalists, Demolition City Roller Derby (Evansville, IN). What made that game especially significant was the previous match-up: a Demolition City demolition of Cincinnati by almost 200 points that kicked off the Black Sheep's gut-wrenching, winless 2014 season. The 2016 squad was a much different team, though, and Cincinnati won the rematch 230-88, most importantly earning them their highest ranking score of the season at 474.54 rankings points.
After a 327-ranking-points victory against Memphis, the Black Sheep took a break from sanctioned play for a regulation game at home versus friendly rivals Naptown (Indianapolis, IN), ranked 32 at the time. The Black Sheep found themselves leading at halftime before eventually falling to the Tornado Sirens, 170-140. Though it was a loss and unsanctioned, so no ranking points were to be gained, the game gave Cincinnati a huge boost of confidence that they were on the right track.
With a 346-ranking-points victory over North Star (Minneapolis, MN) in the next game, the Black Sheep managed to exceed both Flat Track Stats and WFTDA Rankings expectations in all five of their first games. They headed into the June 3-5 BrewHaHa tournament in Milwaukee with their work cut out for them. The two games there against Calgary (Alberta, Canada) and Grand Raggidy (Grand Rapids, MI) would make or break their chances of getting into Playoffs.
In their first game at BrewHaHa, Cincinnati led Calgary by nine points at the half. Calgary went on an early second half tear, however, and pulled away with a convincing 51-point victory. The resulting 305 rankings points, though, were definitely still in the wheelhouse where the Black Sheep needed to be.
Their second game at BrewHaHa against red-hot Grand Raggidy came down to the last jam, a nine-point loss that served up Cincinnati's most unfavorable result of the season at 293.66 ranking points. Nonetheless, coupled with a horrific, 80-point ranking score from the previous year dropping off their average for the final, June 30, 2016 rankings, the BrewHaHa performances proved to be enough to get the job done.
Hashtag: Just Getting Started
When the dust settled, Cincinnati had played their way back into relevance in 2016, finishing the race for Playoffs ranked 48th in the WFTDA, a full 50 spots higher than their lowest point at the end of 2014. The comeback kids had earned a four-seed at the Division 2 Playoff in
Lansing
, Aug. 26-28.
Cincinnati's first opponent on Aug. 26 in Lansing will be Calgary in a first-round encore of two of the most closely-matched teams in the tournament in what is guaranteed to be one of the best bouts of the weekend.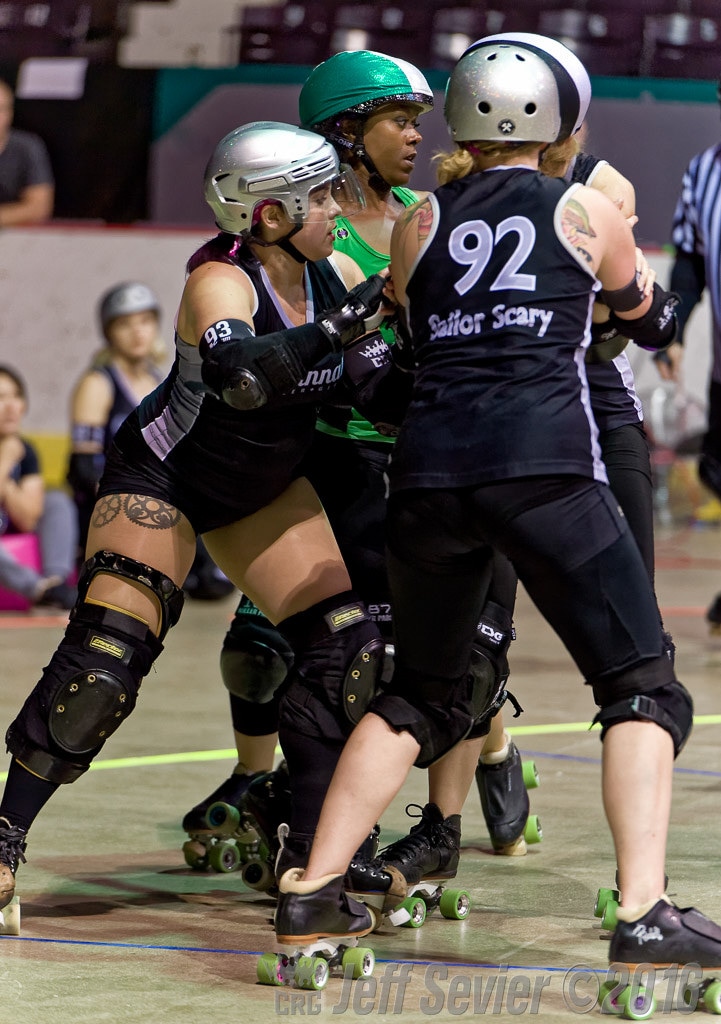 Black Sheep skaters Macrum (ILC) and Sailor Scary (captain) blocking
After a debilitating fall from grace, and years of struggle, the Silver and Black are back… but they're not done.
"We've had a laser focus on our goals, did lots of math, a lot of research, training and fine tuning, and we found the true meaning of teamwork," Team Captain Sailor Scary said. "I am so proud of what we've been able to accomplish together."
With that laser focus, a hard-earned humility, and the conviction that they will reign once again, the new and improved Cincinnati Rollergirls have overcome some daunting adversity through teamwork and innovation. Keep your eyes on these resilient women, because with a solid foundation for lasting success, they are #justgettingstarted.