If this year had gone as planned, the Cincinnati Rollergirls would now be halfway through their inaugural season at the state-of-the-art Cintas Center at Xavier University. It would have been a huge step up for both the team and its loyal fans after losing the Cincinnati Gardens in 2016 and spending the next three years playing at Xavier's Schmidt Memorial Fieldhouse. 
But this year did not go as planned — for anyone. The coronavirus pandemic forced the cancelation of all of CRG's home and away games, and Ohio's stay-at-home order means that practices have been canceled as well. Skaters' schedules no longer including training three to four days a week or regularly seeing teammates who have become as close as family. As of the publication of this article, it's still unknown when skaters can safely return to play. 
But just as they know how to pivot in roller derby, the members of CRG also know how to pivot in real life. Instead of practicing in person, team members are now joining virtual workouts or setting off on solo adventures on outdoor trails or skate parks, while making sure to maintain social distancing. And since they can't battle opposing skaters on the track, many team members are now focusing their working hours and free hours on battling COVID-19. 
Waste not, want not
Miranda "MIRDERHER" Maszk (above), a founding member and current bench coach of CRG, works as the executive chef for a Cincinnati nonprofit called La Soupe. The organization rescues overages from grocers, restaurants and food distributors that would otherwise go to the landfill but are still fit for consumption; transforms them into soups and pan meals; and then shares them with local food-insecure areas. 
"As items come in, I direct if the food will go to our kitchen, to one of our transform partners or straight to our share partners," Mir explains. "In the kitchen, I work with our transform chefs to utilize the products and determine what will be a meal, what will be soup and what method of cooking best utilizes the product."
Because of the pandemic, Mir and the La Soupe team have heightened safety protocols and sanitation standards. They wear gloves and masks, sanitize frequently touched items and areas and ask their in-house volunteers and employees in-depth questions about their health and travel. (Mir herself is no stranger to wearing masks: She always wore a Hannibal Lecter mask for skater introductions at CRG home games.) 
"I'm a huge advocate for safety and sanitation, and this has ramped up my radar to 11 non-stop," Mir says. "We work clean, we work healthy, and in doing so, we can keep feeding people."
And the demand for food has skyrocketed. Recently, La Soupe donated over 16,000 servings to Cincinnati Public Schools in a single day. That's what they used to donate in an entire week. 
"We have nearly quadrupled the amount we are rescuing. Some weeks seem like 10 times the amount," Mir says. "Because of the shutdowns, many of the rescues in the last few weeks have been from fellow chefs' restaurants. It is completely heartbreaking. Through donations, we have been able to partner with some local restaurants, evolving them into community kitchens, keeping some of their staff employed and getting more food in the hands of those who need it."
A Team Effort
CRG has several other team members who are deemed essential personnel. They're all working long hours in a variety of workplaces, including healthcare facilities, manufacturing plants, grocery stores and restaurants. 
And others, including skaters Emilie Graham (formerly known as Jillian Dollaz) and No-No, are using their free time and talents to make masks. Graham made 20 avocado-print masks for the staff of La Soupe, plus more for other organizations. And No-No's entire living room has been appropriated for DIY mask production.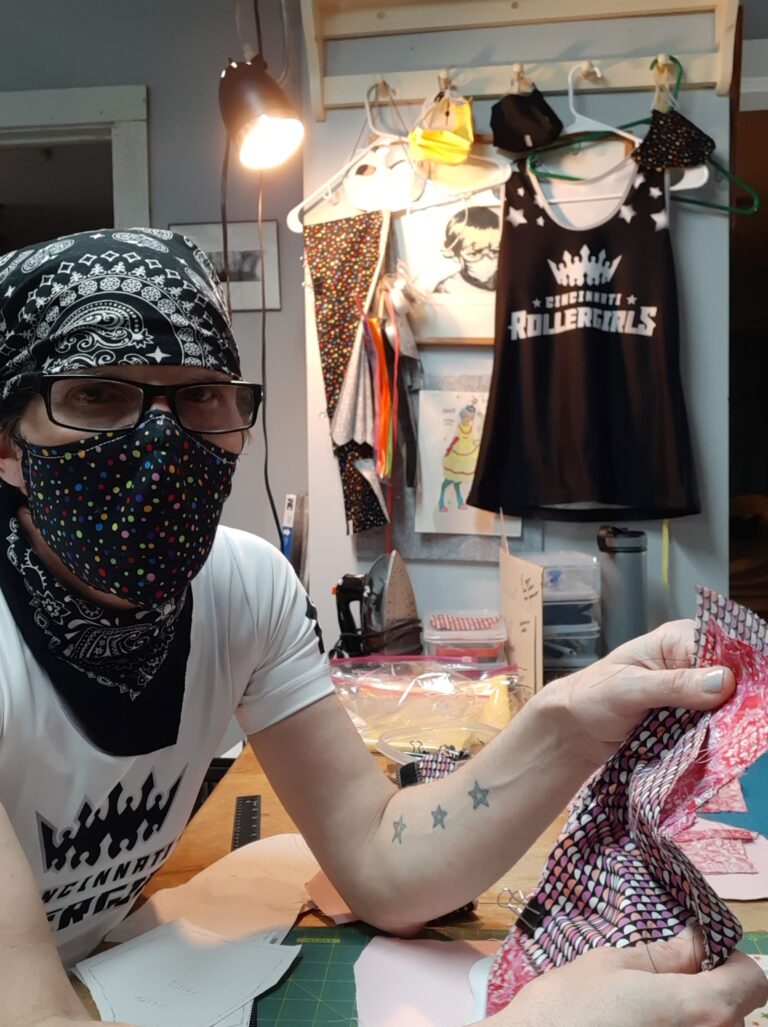 "The demand for DIY cloth masks, especially those containing pockets for HEPA filter material such as furnace filters, is very high, especially recently. In my small town alone (population < 10,000) there are probably at least half a dozen DIY mask 'micro-factories' like the one in my living room," says No-No, who's made dozens of masks so far. "We are trying to reduce the popular demand for N95 masks by introducing a supply of masks in the 'black market' so that existing or future supplies of N95 masks remain or become available to those at the front — in our hospitals, at our testing locations, etc.
"There is also an emerging consensus among experts and practitioners in support of the idea that widespread use of any kind of mask (including DIY masks) in conjunction with personal hygiene and social distancing practices may contribute significantly to our efforts to flatten the curve by reducing the risk of asymptomatic transmission," No-No points out.
While all of these members of CRG miss practicing and miss their teammates, they're grateful that they can help those in need. 
"Staying busy helps me keep my mind off why we are doing all of this," Mir says. "Sometimes, there are moments it catches up, but knowing we are helping makes all the difference."
Photo of Mir by Christophe DeYoung/La Soupe