I noticed that I was injured back in late November/early December. I say "noticed" because I never had an injury-inflicting incident. I cannot specify what actually happened and when. All I knew then was that my knee and hamstring were hurting and didn't move like they used to, and that I had one month to fix it before we started up our practices for the new season. Once I realized they weren't going to fix themselves, as is sometimes the case, I headed in to the doctor for what became a four-month, frustrating ordeal that left me unable to practice until March and out of our first game of the season.
It was a rough four months, full of more questions than answers, the threat of surgery, some physical therapy and hope that I could return soon enough to make the March 27 roster. To make a long story short, I won't bore you with the details of each visit or the process that finally led me to physical therapy. All I can say at this point is that I was lucky that I didn't have a career-blowing injury and that I did not need surgery. But no one really figured out why I was hurting. I was given a regimen of exercises, some prescription strength anti-inflammatory medication, some very painful but helpful adjustments at physical therapy and electrode therapy on my knee twice a week for four weeks. All of these things in combination managed to fix me.
My return to practice was bittersweet. I was so happy to see my teammates and to meet our rookies, but I also discovered right away that I was not going to make the March 27 roster because I had been gone. I was really worried about the Silent Lambs and how they would do without me. I'm a jammer and quite a few of our jammers got moved up to the Sheep, leaving the Lambs jammer pool looking sparse. My fears were not helped by two less than desirable final scores at scrimmages before the big game. I tried everything I could to get on the roster, but honestly, we all knew I wasn't ready and it wouldn't be right. All I could do is watch and hope that the 20-girl roster for the Lambs could pull it together in time and work hard to make sure I could get on the roster for April.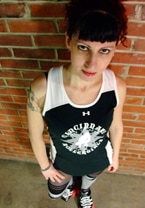 Game day came, and I had to work the merchandise booth with Hop Devil. It was hard to show up at the Gardens and not go into the locker room on game day with my teammates. I was just a volunteer, but at least I was "just a volunteer" for one of the greatest organizations in existence. I was able to check my ego at the door and learned that even selling merch for CRG would give me a sense of pride and accomplishment. We broke records that day for ticket and merch sales, and I can proudly say I was a part of it. To top off the feeling of greatness that came with selling merchandise to our fans, the Lambs won! To say they won is an understatement – they killed it! I should have known that they wouldn't disappoint, and I was so happy to see it. We were too busy to watch much of the game from our merch table, but the couple of minutes I was able to actually see were impressive – rookies and veterans alike were on fire!
I thought I was going to go in on the 27th and feel horrible about everything. I struggled with feelings of guilt, anger and sadness in the few weeks leading up to it. I thought it might be the proverbial straw that would make me decide that I wouldn't be doing derby for much longer. Instead, my return taught me a thing or two about myself and my relationship with roller derby, and even more so, about my relationship with the Cincinnati Rollergirls. I am here to stay. I am here to do whatever it takes to keep this team going because without derby, I couldn't be happy. Whether I'm on skates or off, I'll be around for a long foreseeable future. Having said this, I really hope the rest of the season has me on skates doing what I love the most on the track with my team to back me.