May 8th, Scout Night, holds a special place for me. In my youth I was a Boy Scout. It may be hard to believe, but Scouting has a weird connection with roller derby.

About one-third of the people involved with the Cincinnati Rollergirls (staff and skaters) were involved in a scout-type organization in their youth. Maybe it was the social skills we learned, or the competitive nature of cookie sales and soapbox derby racing, or the chance to be brought together with other walks of life for a common interest that lead the way to derby in adulthood. It's hard to say without doing an in-depth analysis.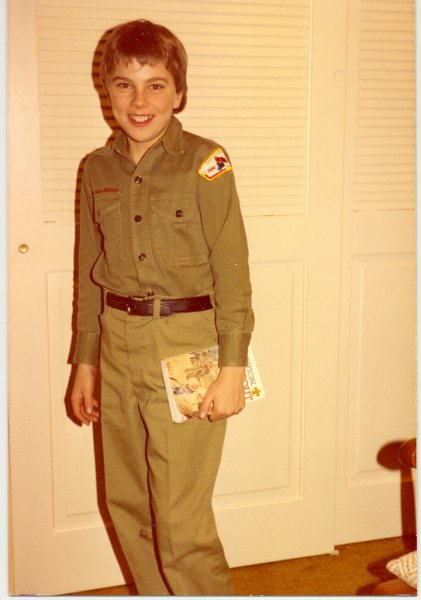 For me, Scout Night is special not only because I was a Boy Scout, but also because my grandfather was my Scoutmaster. We all know that the relationships we have with our grandparents are different from those with our own parents. My grandfather truly was a friend. My experience in Scouts was more about being able to spend quality time with my grandfather, learn more about him as a person, and see how the people we look up to aren't perfect. There were many times when he and I tried to tie some of the more complex knots only to get it completely wrong. That was fine. We just started over each time and would eventually get it, very similar to learning to skate again as an adult.
The connection my grandfather and I had was enhanced by the fact that he was the Scoutmaster of the same troop when his only son was in Scouts. My grandparents had five children: One son and four daughters (one is my mother). Grandpa worked as a union pipe fitter, traveling the country to help build power plants. He would be gone for months at a time for certain projects. My grandmother was able to raise their five children on the money they saved and that he sent home while away. The Boy Scouts gave my uncle and his father the opportunity to connect and spend time together catching up on lost time for father-son bonding. But life eventually got in the way. My uncle's interest in Scouts waned as his interest in school-sponsored sports grew, while the need to work and support a family of seven was always there for my grandfather.
Fast-forward to my youth. Grandpa knew I was always interested in Scouting, so he put me in touch with his old troop, and we both joined. He was an assistant Scoutmaster until the Scoutmaster at the time had to withdraw because of work. By this time, my grandfather was retired, so he stepped in.
We had several good years in Scouts together, and like my uncle before me, sports and other activities caught my attention as I got through my teen years. Eventually my grandfather would step aside and a new Scoutmaster took over. But the time we had together allowed him a second chance to make up for the lost time he spent away from family while working out of town so much. For me, it was a chance to go do all the stuff kids enjoy doing with their grandparents.
When I was in my 20s, the life of working in construction, smoking for almost his entire life, and overexposure to asbestos caught up with my grandfather, causing a very aggressive cancer to develop. Like most cancer cases, he had good days and bad days, treatments, prognoses, x-rays, etc. But through it all, he always smiled when I visited and still called me "Bullfrog" – yes, that was his nickname for me.
So on May 8th, at Scout Night, I'll have the opportunity to see several other people enjoying their scouting experience and creating their own memories. While the back of my referee jersey may say "Captain Gorgeous," I'll still be Bullfrog at heart.