Watching CRG blocker Hustle in action today, you'd never guess that on her first night on skates, she clung to the rink wall like a cat avoiding a bath (those are her own words — read more of them here). She's confident, agile and strong, and she always seems to be in the right place at the right time, much to the frustration of opposing jammers.

So how did she level up to where she is today — a regular on CRG's Black Sheep roster and a recent addition to the roller derby all-star team for the state of Ohio? And what advice would she give to others who are just as shaky on their skates as she was at first? She took some time out from scheduling CRG's 2019 season to fill us in.
You were a CRG intern, volunteer and then a non-skating official before you started skating. What made you decide to try out for the team?
When I was a volunteer, I saw rookies come into the league and rise up through the ranks, so I felt like it was possible to start from scratch. Additionally, everyone in the league was incredibly helpful and patient, and they wanted everyone to succeed.
How do you think your non-skating background prepared you for playing the game?
I remember meeting rookies who didn't know the rules or the sport because they hadn't been involved. I'm definitely no expert (clockwise blocks can be my specialty) but I had a general idea of the rules and gameplay when I came in, so I usually knew when I was messing up, even if I didn't know how to fix it.
Did you have any kind of sports or skating background before derby?
I played recreational sports, but that pretty much ended at the high school level. I grew up in Indiana where there were no rinks nearby, so I had absolutely no skating background.
When you first made the team, did you set any goals for yourself? If so, which ones have you met, and which ones are you still working toward?
I made, and continue to make, incremental goals for myself. I started by making it my goal to be allowed to scrimmage. Then, I wanted to make a Violent Lambs roster (CRG's B team). After that, I figured I'd at least keep trying for the Black Sheep (CRG's A team). This year, I tried out for OHARD (Ohio All-Stars Roller Derby). I never go into any of my goals assuming I'll achieve them, or that I deserve them. I just do my best and ask for feedback along the way.
What kind of gear do you wear?
I wear a hockey helmet and visor — it just makes me feel more secure. Additionally, my skates are silver Bonts that Royal T helped me custom-order.
How do you cross train?
I go to CrossFit Cincinnati, our sponsor gym. I don't always make it in as much as I'd like, but I really feel like it's helped my gameplay.
What have you learned about yourself through derby?
To never be afraid to ask for feedback, and to keep an open mind. Nearly every time a jam or drill is over, I'm asking my teammates for feedback. If you want to be reliable and trusted, you have to be open to advice.
Do you have any game day rituals or superstitions?
I have to get to the venue super-early. It's almost like I need my own personal time to settle in. I also like to be able to pick my spot in the locker room. If I can't, I feel completely out of place and unorganized.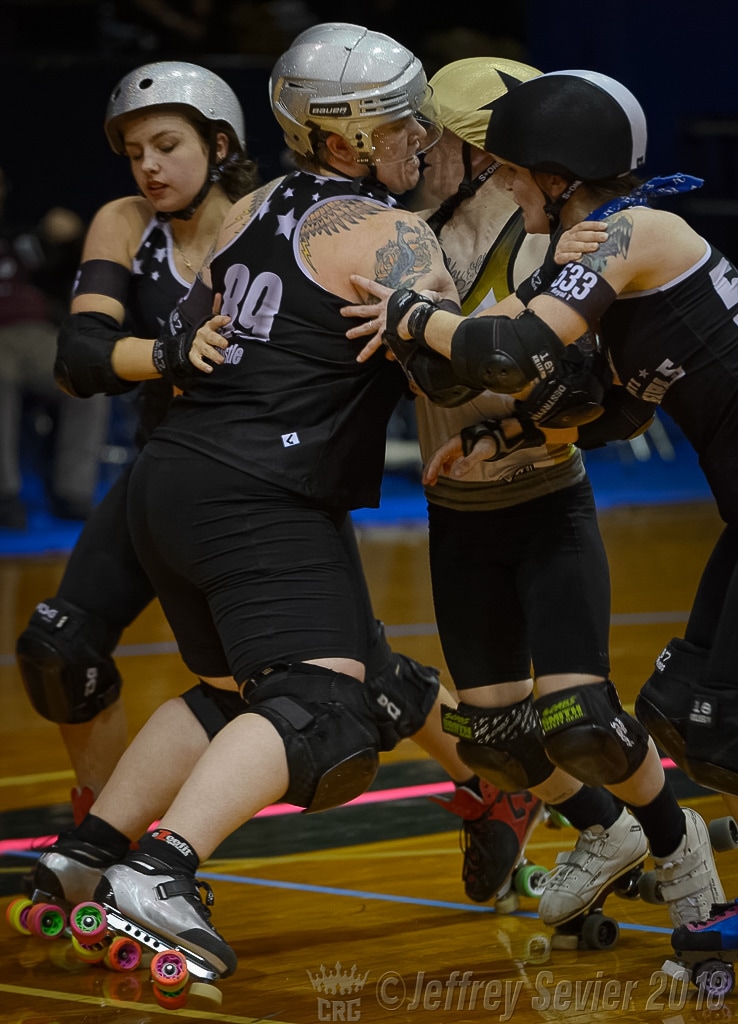 What's been your favorite derby moment so far?
Probably skating out for the first time at Schmidt rostered as a Black Sheep. I'd always viewed making the Sheep as kind of a pipe dream, so it was pretty surreal that it was happening.
You've also been on CRG's Training Committee and currently, you're one of our Interleague Coordinators. What do those roles entail? What have you learned from them?
Training Committee sets the tone for the kind of practices and season the league is going to have. We sent a yearly survey asking the league what they'd like to accomplish and used that to inform our programming. We also reviewed game footage to build on our strengths and hone in on our weaknesses.
Currently, as Interleague Coordinator, I contact leagues from across the U.S. and Canada to try to secure our opponents for the season. It's honestly like a giant puzzle. We get the dates first, and then work to fill them with opponents that fit the team's goals for the year.
In both positions, I learned that open, constant communication is key. I over-communicate quite a bit because I always want everyone to be on the same page. Both positions require a lot of collaboration, so you can't silo yourself.
What advice would you give to someone who's not sure if they have what it takes to play derby?
You're going to be most frustrated right before you have a breakthrough or do something new and awesome. You have to accept that setbacks are part of the process. If you can do that, I think you'll be successful. I've seen people with a good attitude succeed more than people who were naturals.
We all know derby doesn't pay the bills, so what does?
I'm about to start a new role as a Project Manager.
How do you unwind when you're not doing derby things?
When I'm not playing derby, I'm hanging out with my dog and husband.
Who or what are your biggest inspirations or motivations, on and/or off the track?
It's cliche, but my teammates inspire me every time I'm with them, on or off the track. When you all have the same goals and support each other, magic happens. As Royal T and Wheezy say, "Queens straighten each other's crowns." Off the track, my husband, family and friends inspire everything I do. I'm surrounded by supportive, intelligent, and unique people — in and out of derby.
Interview by Lauren "Miss Print" Bishop
Want to hear more from Hustle in her own words? Check out
Episode 6 of the Fans of Podcast
.