If you've been a CRG fan for the past few years, you know the name Jas Hubbard — or Jas "The Hammer" Hubbard, as our announcer The Loud Guy likes to call her (and now she even has a hammer tattoo to match).
It's a fitting nickname, as Hubbard has been an indispensable tool in CRG's offensive toolbox. She had four 100-plus-point games this year, scored an average of 91 points per game and had an average point differential of +65 points per game. All told, she scored a whopping 729 points this season alone. And she electrifies fans as she laps the pack with dizzying speed and agility and lands astonishingly high apex jumps.
We got this powerhouse point-scorer to slow down for a few minutes to tell us more about everything from her derby beginnings to her pre-game rituals to the kind of pizza that's the way to her heart.

You had never been on roller skates until you started playing roller derby with Bleeding Heartland Roller Derby. What made you want to try it out? How long did it take you to learn how to skate, and then learn how to play roller derby?
I spent a whole year watching and I fell in love with roller derby. You've got to be physically and mentally strong to play. I also saw how this was much more than just a sport — it's a community and a family. I knew I could figure out how to skate and be good at derby. I'm super competitive, so it was a fun challenge for me personally.
I volunteered with BHRD for a year and I went to playoffs in Fort Wayne in 2013 to support them. I even got to watch CRG play. I had a really good understanding of the game and the rules before I ever put skates on. When I finally decided to join, it turned out I wasn't awful at skating. BHRD had a pretty intense six-week bootcamp program. I passed all of my minimum skills and got to scrimmage at the end of bootcamp.
What kind of sports or athletic background did you have before roller derby? What kind of an impact has that had on your roller derby game?
I played basketball and ran track during my school days and golfed for a short time. Playing basketball, I learned how to be on a team and what it means to trust and rely on my teammates. Between being a sprinter and playing basketball, I developed pretty decent footwork skills and learned how to be agile. I think my time golfing taught me to be patient … like when I'm waiting for offense, lol.
What was it like to make the transition from Bleeding Heartland to CRG in 2015?
The transition was pretty damn smooth. I made friends relatively quickly and CRG was very welcoming. It was intimidating as hell to practice with the men's team, the Cincinnati Battering Rams. I was super scared to be hit by men at first but got over that quickly.
You're primarily a jammer and usually the Black Sheep's starting jammer. How do you pump yourself up before games? Do you have any pre-game rituals or superstitions?
I have a bout day playlist that I listen to. I think all of CRG knows not to really talk to me before the game. And I always drink a Blueberry Red Bull while warming up. [Listen to Hubbard's bout day playlist here.]
Apex jumps have become a critical skill for jammers to have to pass opposing skaters. How did you get so good at them? Any tips for skaters who want to sharpen their apex jumping skills?
I love jumping the apex! Sometimes it's an easy way to get your points, and other times it's painful as hell. You have to be willing to have your soul rocked when you commit to that jump, because it could very well happen.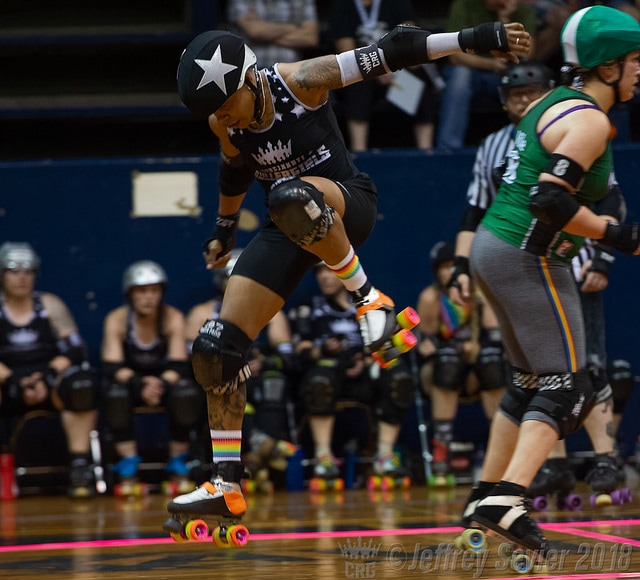 How do you cross-train for derby?
I usually go to the gym solo, lift heavy things and do some HIIT workouts. This season I ate pizza more than I went to the gym. I'm still figuring out how to balance the things I love.
Tell us about your derby gear.
S1 silver helmet, Sisu mouthguard, 187 wrist guards, elbow pads and knee pads and Mota skates with Boss plates.
I think it's safe to say that you're a fan favorite. How does it feel when fans come up and talk to you after games and ask for photos or autographs? Is there anything you'd like to say to them?
It is pretty cool that people want ME to sign things and take pictures with them. My son calls me a celebrity. I love our fans! I would like to tell them
thank you
. Thank you for supporting CRG, for always cheering for us and being the best damn fans Cincinnati has!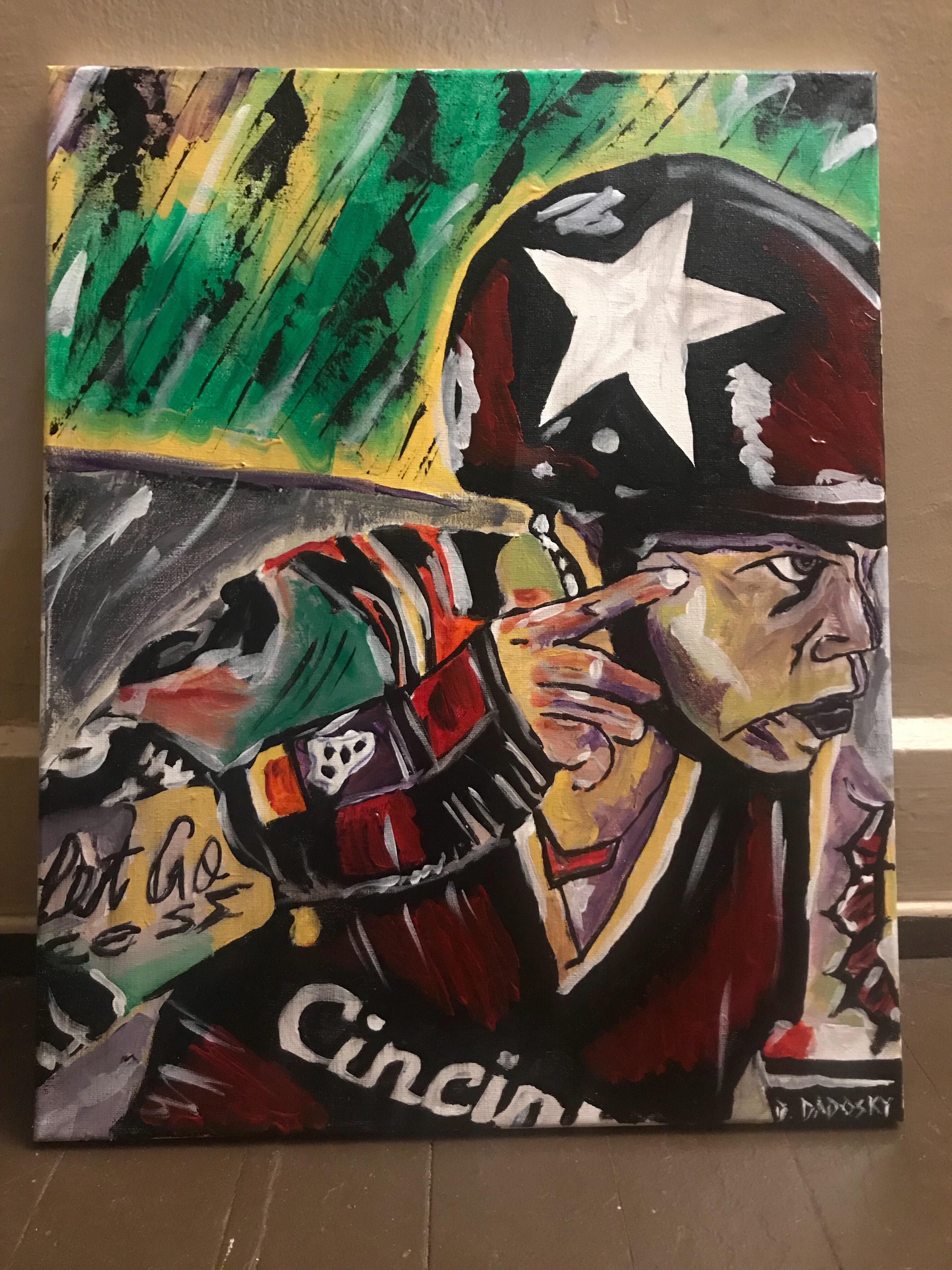 Fan art by Dan D.
In addition to skating for the Black Sheep, you've started bench coaching for CRG's B Team, the Violent Lambs. For those who don't know, can you explain what bench coaching entails? What was that experience like for you?
I am in charge of making packs — putting people who work well together on the track. I try to give each pack feedback when they return to the bench and keep the mood light and fun. These are my league mates, and I think it's awesome they trust me enough to let me give them direction and advice. It has been tough skating and coaching in the same night but so rewarding. I am looking forward to continuing my coaching adventures with the Lambs.
We all know that derby doesn't pay the bills, so what does?
I work as an aviation repair technician. I repair acoustic liners that go inside airplane engines, the liners help reduce noise from the engine. They are also the first point of contact for any foreign objects or birds (RIP) that happen to find themselves inside an engine in the sky.
You're also well known for your love of pizza. What's your favorite style and your favorite toppings? Is pizza an occasional guilty pleasure, or is a regular part of your diet?
Pizza is definitely a regular part of my diet! I eat it around three times a week typically. Plain cheese pizza is the way to my heart!
Aside from pizza, how do you relax and unwind when you're not working or doing derby things?
I love taking naps and I like to read, mostly poetry and true crime. But right now I'm reading The Wind in My Hair: My Fight for Freedom in Modern Iran by Masih Alinejad.
Who's your biggest inspiration or motivation?
My son is my biggest inspiration and motivation. He is 12 years old and has autism. He is a courageous, kind and resilient human. He faces obstacles on a daily basis and is able to navigate these situations to be successful in everything he does. After the first BHRD bout that he got to see me play in, he came up to me at halftime and said, "You're doing great, Mom, and I'm cheering for you," and it melted my damn heart. BHRD photographer Cory Layman caught this photo of us hugging. Now he goes to every single practice with me. When I look over and see him, I remember I can do anything.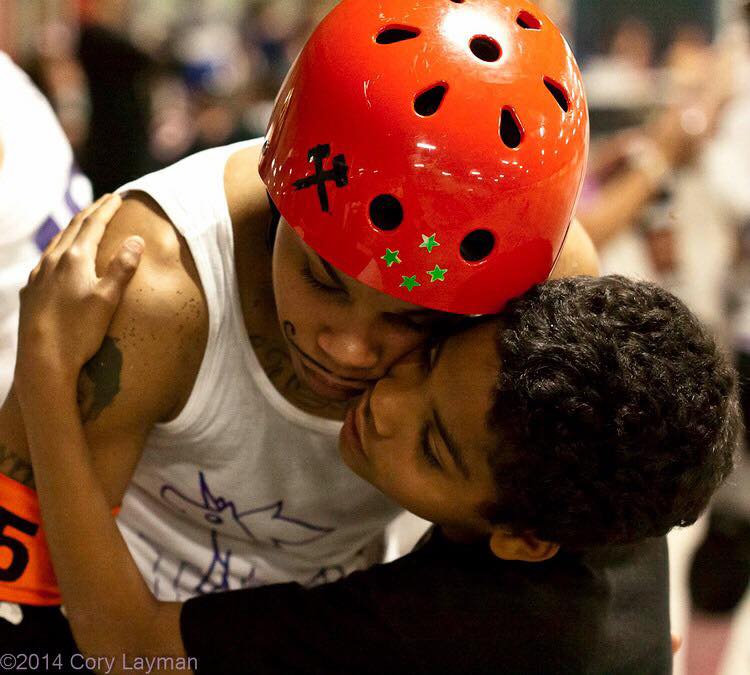 Interview by Lauren "Miss Print" Bishop