With her trademark blue Kansas City Royals bandana, relentless recycling of opposing jammers when she's blocking and striking speed and agility when she puts on the jammer star, Royal T is always a standout when CRG's Black Sheep take the track. Here's the story of how she became crowned Royal T, how she's helping to train the next crop of CRG skaters and how she unwinds when she's not winding up to skate.

When and where did you start playing roller derby?
Army life and then mom life kept me bouncing around the world or physically unable to skate. A couple different leagues took me in here or there for a few weeks at a time, though I'd say I never truly started until I joined CRG in 2015.
How did you choose your derby name?
All the credit goes to my father-in-law for my derby name. I've been a lifelong fan of the Kansas City Royals and my daughter's name starts with a T. Royal T was the perfect way to join my two loves while still have that good ole derby play on words.
What kind of sports or athletic background did you have before roller derby? What kind of impact has that had on your roller derby game?
I grew up doing gymnastics and diving. Almost any sport can transfer over to roller derby in that you are training your body to react before your brain tells it to.
You were a Civil Affairs Sergeant in the Army. What did your position entail? How long did you serve, and where? What was that experience like?
I served for eight years and deployed to Iraq out of Ft. Hood, Texas and to Afghanistan out of Grafenwöher, Germany. I only had the opportunity to work a CA role in Afghanistan. Civil Affairs has a wide scope of operations during both wartime and peacetime. My team was responsible for blustering local support to that region's elected official. We also occasionally trained the Afghan National Police. I loved being deployed and feeling like I was making a difference, even if it was in a small way.
We saw you blocking more than jamming this season. Will we see more of that next season? Which position do you prefer?
I am the skater who is happy to be on the track. While I prefer blocking, I try to be whatever my team needs me to be in the moment. While I'm not always the best at it, I strive to be as versatile as possible.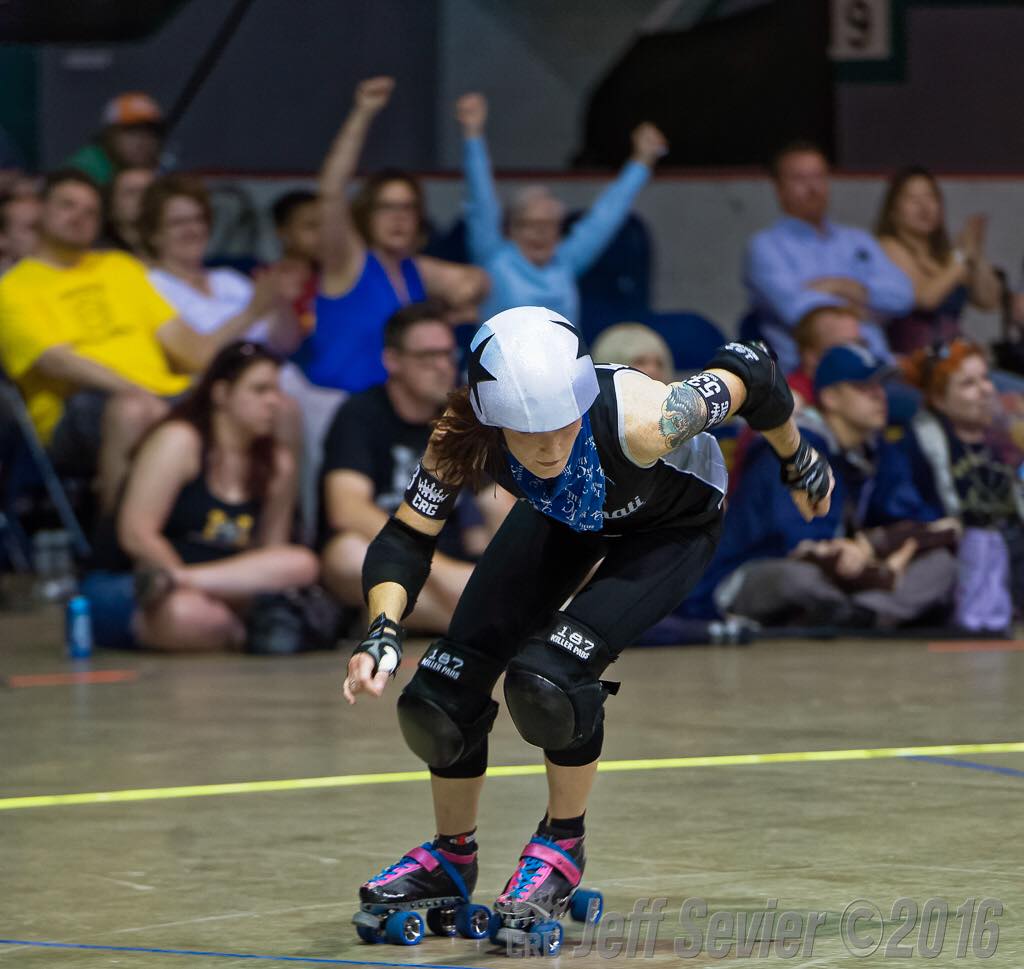 Tell us about your gear.
I skate in custom Bonts. They are the most wonderful thing I have ever put on my feet. I could wear them always. I have Reactor Pro plates and skate on a mix of Radar Halo Wheels. My knee and elbow pads are 187's. I use Atomic wrist guards and an S1 helmet.
You're also on CRG's Training Committee. What does TC do, and what's your specific role on it?
TC works with coaching to set training plans for the season. TC really focuses on feedback from the league to tailor our goals and practices to what the league wants. Each TC member takes turns planning and running practices. Hustle, Wheezy and I are always in constant communication with new ideas, what works and what doesn't.
How do you balance training with playing yourself?
More often than not, TC members will take turns running drills so that each of us gets to participate in practice. The league is also full of helpful people. If someone comes to practice and can't skate, they will help run drills and give feedback.
What's your favorite part of being on TC?
I love teaching and I love it more when the person you're teaching is eager to learn. There is nothing more gratifying than coaching someone through something, watching them work hard for that and seeing the pride on their face when they accomplish it. TC has also been extremely humbling. Feeling OK with saying "I don't have an answer for that" is harder than you might think.
What advice do you have for beginning derby players?
You are going to fall. The skill is in how fast you get back up.
What's been your most memorable derby experience so far?
Oh my goodness! There are so many that I hold near and dear to my heart. The first time I jumped the apex. Somehow how I got to travel and skate in playoffs as a baby jammer. I once tripped during intros at the Gardens, then got the hear the same crowd that watched me trip, cheer for me. I have a few hits on some super strong skaters. I've gotten to skate with my best friend for two years. Overall though, I think my favorite part has been how much my family has gone out of their way to see me skate. My parents and siblings have traveled across the country to watch me skate and nothing could make me feel more supported.
We all know that derby doesn't pay the bills, so what does?
I'm a dental technician who specializes in dental implants. My company helps people become comfortable smiling again.
What do you do to relax and unwind when you're not working or doing derby things?
Relax! That's a funny word when you have a 4-year old. She rarely gives us time to relax. Most of my relaxing happens when we go on derby road trips. Those are always such a blast. I do get to spend some of my time co-hosting
Fans Of Podcast
. I've really been enjoying the opportunity to have a part in that podcast. I've loved getting to know more about my teammates in a different way.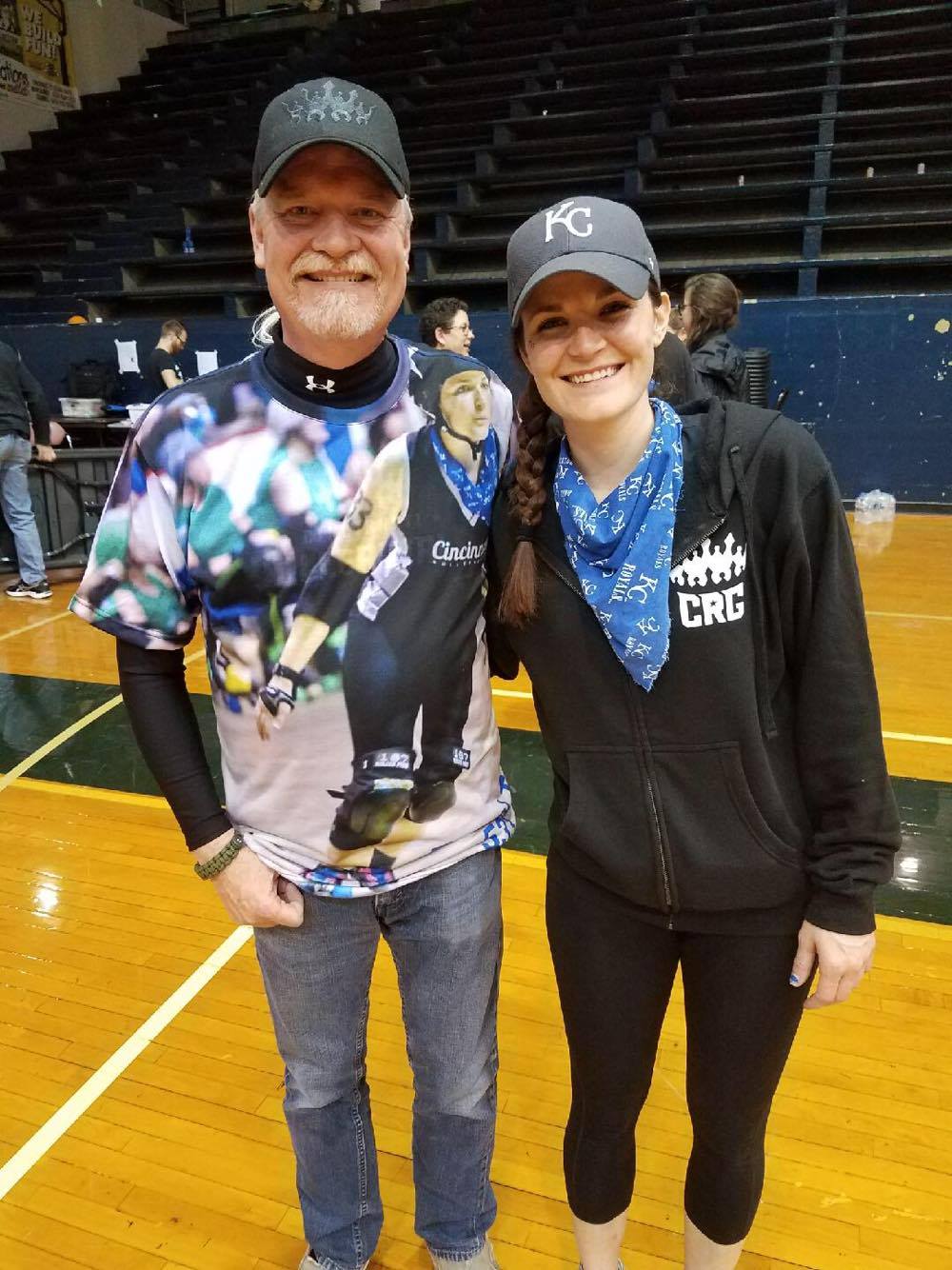 Who's your biggest inspiration or motivation, on or off the track?
My biggest motivation would have to be my dad. While I know no matter what I do, he will be proud of me, I always want to go above and beyond so that when he says "I'm proud of you," I can truly relish that statement.
Interview by Lauren "Miss Print" Bishop