Thanks to COVID-19, many of our favorite activities — concerts, festivals, roller derby and other sports — simply aren't happening as usual. But as many people have discovered this past year (see here, here and here), a pandemic is a great time to pick up a recreational activity that you can do solo, like roller skating. 
But how do you learn how to roller skate during a global pandemic? We've rounded up some resources to help you learn how to roller skate and learn the basics of roller derby, whether you're interested in becoming a derby skater, official, volunteer or spectator when it's safe for the sport to resume. Read on to learn how to (safely) get your roll on! 
1. Buy roller skates and protective gear. 
As you may have discovered already, it's become difficult to find roller skates online that will be delivered anytime soon. But even if that weren't the case, we'd still recommend visiting a local skating rink — like our practice rink, The Place — to get properly fitted and to get expert advice on the skates that are best suited for the kind of skating you want to do, whether it's jam skating, outdoor skating, park skating or roller derby. Plus, there's way more to buying skates than you might realize. You have to consider a wide range of options for skate boots, wheels, bearings and more, and there's just no substitute for trying before you buy. 
In addition to skates, you'll also want to pick up a helmet, elbow pads, knee pads and wrist guards for safety. Even though you usually don't see people wearing all that gear at your local skating rink on a Saturday night, it's required for roller derby (along with a mouth guard), and it's just a good idea if you're a beginner skater who's hitting local trails or skate parks for the first time. Even the most experienced CRG skaters fully gear up for recreational skating, so you won't look out of place if you run into us! You can buy protective gear through The Place as well, or you can check local sporting goods stores (look for skateboard brands like Pro-Tec and Triple 8, which offer more protection than gear for inline skating) or shops that sell gently used and new gear, like Play It Again Sports. 
2. Watch roller skating videos. 
Now that you've got your skates and gear, it's time to check out some online videos that will teach you the basics of roller skating. We suggest getting started in your house, garage, driveway or sidewalk before you venture out to a local trail, skate park or skating rink. Here are a few of our favorite accounts to follow:
YouTube: Just search YouTube for roller skating and/or roller derby, and you'll find a slew of instructional videos. We especially like the Dirty School of Skate and Queer Girl Straight Skates. Interested in park skating? CIB Crew has tons of tips and tutorials for you. And if you have your skating sights set on trying out for CRG or another flat track roller derby team someday, check out this playlist of the minimum skills you'll need to master from the Women's Flat Track Derby Association (WFTDA), our sport's governing body. 
TikTok: Roller skating videos have taken off on TikTok this year, and CRG skater Ada Burnlace (also a former figure skater!) is among those posting how-to videos under the handle DerbyBrat. We've also been sharing Ada's videos on CRG's Instagram, Facebook and Twitter accounts. Just search #AskAdaBurnlace and feel free to ask Ada any questions you have!
Instagram: Talented skaters of all sorts abound on Instagram. We highly recommend following Freight Train, who tears it up on the track with the Texas Rollergirls as well as the rink — including a small one she's created in her own house (!). She's created a slew of instructional and workout videos over the past few months, and you'll soon see that her skating skills, sense of humor and enthusiasm for roller skating and life in general are second to none. And speaking of the Texas Rollergirls, check out their new Skate Skills 101 video series on Instagram.
We also suggest following Riedell, the official Instagram of the legendary manufacturer of quad roller skate boots. You'll find all kinds of inspirational and instructional roller skating videos here. Also check out Skaterobics for a fun combo of skating and aerobic exercise. Founder Tanya Dean offers free online classes at 3 p.m. every Saturday (and in-person classes in New York City, if you happen to live there). She's also on Facebook. For more inspirational skaters to follow on Instagram, check out this list and this one.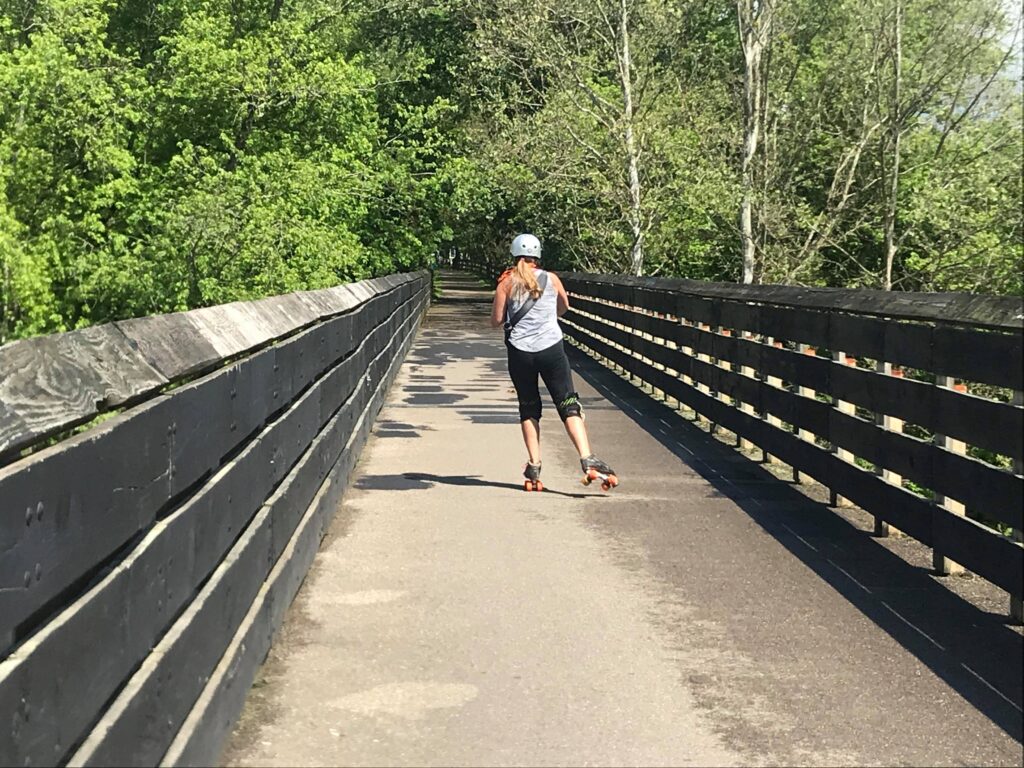 3. Get out there and skate!
CRG is not currently holding any classes, tryouts, practices or games due to COVID, but we encourage you to skate outside if the weather permits! We've compiled a few of our favorite trails in this article.
If you feel safe in indoor settings, most area roller skating rinks have now reopened, including our practice rink, The Place. You can hit up an open skate (check The Place's website and social media or call 513-522-2424 for the latest hours) or attend a skating class for all skill levels that the rink holds on Monday nights. Due to COVID, masks are mandatory except when you're on the skating floor; contact the rink or join the Facebook group for more information. You can also join the new Cincinnati Skate Collective Facebook group, where skaters of all skill levels plan informal meet-ups.
4. Don't forget to cross-train.
Even though roller skating is a great workout, just like any other athletic endeavor, cross-training is essential. There are lots of great resources out there for cross-training for roller skating and roller derby, including this article and this one from Roller Derby Athletics. 
5. Follow roller derby blogs, websites and social media accounts.
The global roller derby community is extremely engaged on social media and blogs. Derby blogs have come and gone over the past 15+ years, but right now, The Derby Apex is a must-read for derby news, analysis and trends. We also like Iron Octopus Fitness for learning how to up both your physical and mental game. 
On Twitter? You'll definitely want to search for (and use) the hashtag #DerbyTwitter to stay on top of all trending conversations and virtually get to know other skaters, officials, announcers, coaches, fans and other members of the global derby community. The roller derby subreddit is a fantastic resource for derby folk of all sorts. Finally, there are dozens of roller derby groups on Facebook — just search to find the groups that might be a good fit for you.
6. Read roller derby books.
Check your local library or favorite local bookshop for these titles:   
Five Strides on the Banked Track: The Life and Times of the Roller Derby by Frank DeFord (1971): Famed sportswriter and commentator Frank Deford's history of banked-track roller derby features profiles of derby superstars including Charlie O'Connell, Joanie Weston and Ann Calvello, whose derby career spanned seven decades. 
Rollergirl: Totally True Tales from the Track by Melissa "Melicious" Joulwan (2007): Joulwan was a founding member of the Austin-based Texas Rollergirls in the early 2000s, and her fascinating first-person account is a must-read for anyone interested in the early history of the league that launched roller derby's revival. 
Roller Derby: The History and All-Girl Revival of the Greatest Sport on Wheels by Catherine Mabe (2007): Packed with vintage and then-current photos, this book explores the history of roller derby from its origins in 1933 through RollerJam in the 1990s to its early-2000s revival. 
Whip It by Shauna Cross (2009): Originally titled Derby Girl, this book was the inspiration for the movie Whip It (more on that below).  
Down and Derby: The Insider's Guide to Roller Derby by Alex Cohen and Jennifer Barbee (2010): Written by two veteran skaters, this in-depth exploration of derby history and culture profiles legendary skaters including Jackie Daniels, Hydra, Ivanna S. Pankin, Trish the Dish, Justice Feelgood Marshall and more.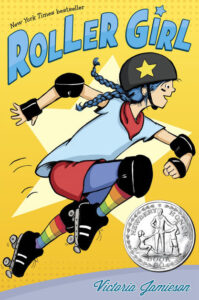 Roller Girl by Victoria Jamieson (2015): This Newbery Honor Award-winning graphic novel is geared toward fourth- through eighth-graders, but readers of all ages can relate to the lessons that 12-year-old Astrid learns about friendships, hard work and teamwork through roller derby.   
Slam! comic book series by Pamela Ribon (2017): Ribon is a former Los Angeles Derby Doll, and this beautifully-illustrated, fun read about how roller derby changes friendships and relationships will immediately ring true to anyone who's been a part of the sport. 
7. Watch movies and TV series about roller derby and roller skating.
Chill on the couch this weekend with these classics: 
Roller Derby Girl (1949): This short film is an excellent crash course in the origins of banked-track roller derby and the prominent role of women in it, including Jean Porter and Midge "Toughie" Brasuhn. (Important note: Roller derby players today aren't paid, and most teams, including CRG, play on a flat track, not a banked track.) Watch it on YouTube.
Kansas City Bomber (1972): Watch this classic if for no other reason than that you're bound to hear, "Oh, you mean like Raquel Welch in 'Kansas City Bomber'?" from at least one person when they hear you mention roller derby. Raquel's roller derby looks virtually nothing like modern-day roller derby, but it's still wildly entertaining to watch. Stream it on Amazon Prime. 
Roll Bounce (2005): Roller skating has long been an important part of Black culture, and this coming-of-age comedy-drama set in 1970s Chicago captures that beautifully. If watching it doesn't immediately make you want to want to strap on a pair of skates and hit up your local rink, you have no soul. Stream it on Amazon Prime. 
Rollergirls (2006): This "reality-based" A&E series about the banked-track Texas Roller Derby league was short-lived, but seemingly everyone who saw it went on to get involved with derby in some way. It's not currently streaming anywhere and may be hard to find on DVD, but it's an important piece of modern roller derby history if you can get your hands on it. Or, watch episode trailers on IMDB.
Hell on Wheels (2007): This is a must-watch documentary about roller derby's revival in Austin, Texas, and the famous split between the banked-track Texas Roller Derby league and the flat track Texas Rollergirls league. You'll see literal blood, sweat and tears as personalities, management philosophies and playing styles clash and gain a whole new appreciation for the origins of the latest incarnation of the sport. Stream it on Amazon Prime.   
Blood on the Flat Track: The Rise of the Rat City Rollergirls (2007): Another documentary from the short-skirts-and-fishnets era of modern roller derby focuses on the first two seasons of Seattle's roller derby league, now known as Rat City Roller Derby and still a top contender today. Stream it on Amazon Prime.   
Whip It (2009): Drew Barrymore's directorial debut is credited with sparking the second big wave of interest in modern derby, just a few years after Rollergirls on A&E. Even though the real-life game looks quite different from the way it's portrayed in "Whip It," the movie still captures the spirit of the sport with help from stars including Ellen Page, Kristen Wiig, Zoe Bell, Juliette Lewis and many real-life derby players. Stream it on YouTube or Amazon Prime. 
United Skates (2019): Even though roller derby's popularity has waxed and waned over the years, roller skating has never gone out of style in the Black community, as this powerful documentary shows. You'll learn about roller skating's important role in the civil rights movement and about how systemic racism and the shutdown of rinks across the country continue to threaten an entire subculture. Plus, you'll see some unbelievable skating to boot. Stream it on HBO.  
8. Listen to roller derby podcasts.
We were going to put together our own list of roller derby podcasts, but then we discovered a great roundup by Nox Talks. Check it out here. Want to hear from CRG skaters and support staff? Check out the Fans Of… podcast, hosted by retired announcer Thadd Scott and retired skater Royal T. 
9. Learn the rules of flat track roller derby.
Now that you've brushed up on roller derby's place in popular culture, why not do some light reading on the Rules of Flat Track Roller Derby? You'll likely find that it's a much more complex and strategic game than you thought. If you're just looking for a brief primer on the rules, watch this Roller Derby 101 video from the WFTDA (above). The best way to learn the rules, though, is to watch, play and/or officiate the game yourself. Stay tuned for more information on how to do that right here in Cincinnati when it's safe for us to return to play.
10. Watch archived roller derby games.
Even though most of the 2020 roller derby season was effectively canceled in the U.S. due to COVID, there's a treasure trove of old games online. We recommend starting with what is widely considered to be the best game to date in modern roller derby history: The 2015 WFTDA International Championship game between New York City's Gotham Girls Roller Derby and Portland's Rose City Rollers. You'll find many more games on WFTDA's YouTube channel (including some old Cincinnati Rollergirls games!) and on WFTDA's Twitch channel. 
We hope these 10 tips help you get started on your roller skating journey! Still have questions? Did we leave anything out? Email us and let us know.