Every contact sport has its tools to keep athletes on the field. In the full-contact, fast-paced sport of roller derby, doctors are key to keeping skaters on the track and in the game.
For the 2017 season, the Cincinnati Rollergirls had a new team doctor, Dr. Richard Okragly of TriHealth's Bethesda Family Practice Sports Medicine. After jumping into the world of roller derby, Dr. Okragly was quickly seeing patients and making an impact on the organization. He soon became known as "Dr. O" and was a fixture at CRG games and scrimmages.
We talked to Dr. Okragly to find out what it was like to learn about the sport of roller derby while treating its players.
Q: How was your experience as a "team doctor" for CRG this year?
A: I had a great experience providing care for CRG this past season. I had some knowledge about the sport heading into the season, having been to a few matches in the past. Everyone, from the front office to the skaters to the officials, has been so helpful giving me their insights into the sport and what challenges the competitors face. I attend a fair amount of sporting events over the course of a year and can say that CRG matches are among my favorites. I can't wait for the next season.
Q: Has anything about roller derby or roller derby culture been surprising or unexpected?
A: The most surprising thing about the derby culture would have to be how friendly everyone has been. There is a persona of toughness and competitiveness that is seen on the track. But once off the track, that quickly changes. It's awesome to see people go out of their way to make me feel welcome into the CRG family.
Q: What are the most common types of injuries you see in sports such as roller derby?
A: With just one season under my belt, I haven't seen one particular type of injury while covering roller derby. Across all sports, there is always a concern about head injuries and concussions. More attention is being paid to it now due to the possible long term behavioral issues seen in professional football and wrestling. The medical knowledge related to concussions has grown tremendously in the past few years. I think the take home message with concussions at this point is to limit the potential for contact and another head injury until symptoms are resolved. The "When in doubt, sit it out" mantra seems to fit the standard of care for treating concussions. Trying to push through symptoms of a head injury usually prolongs recovery. Other common injuries would be wrist and ankle injuries from falls.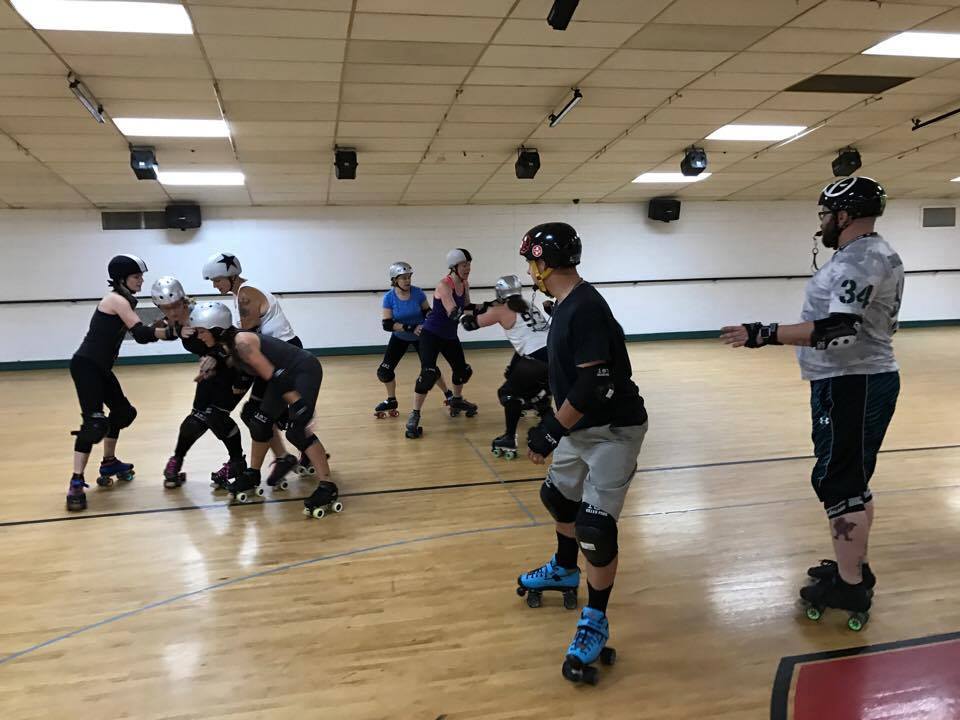 Q: There was a practice where you skated and reffed for CRG. How was that experience for you?
A: I did come to a Sunday morning practice to check out what the skaters have to endure. Being a good sport, I got onto skates. I have some skating experience dating back to my college days. My friends and I would play roller hockey a few times a week on whatever surface we could find. During medical school and into residency, I would skate (inline) a few miles at least weekly to help with stress relief. There is a different feel when skating with roller derby skates. My experience as a ref was humbling. You ladies are fast on such a narrow track. I would definitely join you again for practice, time permitting.
Q: The age-old question: What would your derby name be?
A: I have been thinking a while on this question. My nickname growing up was Kraggs, but I think that is too plain for derby. Doc McCrushing popped into my head, but I am not an imposing individual. Perhaps a contest for the team to give a derby name to their team doc?
Q: Is there anything else you'd like CRG and our fans to know about you?
A: I am a husband of 13 years and a father of a beautiful, smart, and caring 9-year-old daughter (who happens to be a 2nd-degree black belt in karate). I have a passion for sports medicine and caring for athlete of all ages and ability. Making sure they do so safely is my top priority.
Next time you're at a CRG game, keep an eye out for Dr. O. He could be treating your favorite athlete, or simply enjoying the game that we were thrilled to introduce him to.
-Hustle