The face of roller derby is changing, and increasingly, it's made up of skaters who started playing the sport as teens and even pre-teens. This year, the Cincinnati Rollergirls have seven skaters who got their start on junior teams in Cincinnati and beyond — that's nearly half a roster! We talked with them about how adult derby is different from junior derby, what their goals are and what advice they'd give to other junior skaters.

Pictured, from left to right: CleoPAINtra, Ficus, Ada Burnlace, Hail Skatin, Princess Derby, Mae Murder, Little Bull
---
When and where did you start playing roller derby, and what made you want to start playing?
Ada Burnlace: I started playing roller derby at 15. I was at a dinner where they were auctioning "Be a Rollergirl for a Day" where I saw someone do a cartwheel on roller skates. I decided that was the kind of crowd I wanted to roll with.
CleoPAINtra: I believe I started roller derby in 7th or 8th grade (2011-2012). What made me start me want to start playing roller derby was I had friends who played and I finally pressured my mom into letting me try it out. She was used to the staged, banked-track derby so she was very cautious about letting me play until she realized it had been re-invented into a real sport.
Hail Skatin: I started playing for Cincinnati Junior Rollergirls and I started playing because of Princess Derby. She insisted I would love it and she couldn't have been more right.
Little Bull: I started playing for Nashville Junior Roller Derby in October 2012. I loved roller skating and some girls on the team told me I should join.
Mae Murder: I started playing in 2012 for the Cincinnati Juniors. My dad took me to the CRG home closer in 2011 and got bit by the derby bug. I had my name picked out that night.
Princess Derby: I started playing when the juniors team started for Cincinnati in 2012. I wanted to play because I loved skating and my mom [Polly Rocket] skated for Cincinnati.
---
What was the highlight of your junior derby experience?
Ada Burnlace: I think the biggest highlight was my last regionals. It was truly a great way to end my time as a skater with CJRG and taking home third was pretty great too. I can't wait to see them take home first one day!
CleoPAINtra: Coming back from a huge abdominal surgery and playing like I never left for a year!
Hail Skatin: Watching myself going from a beginner skater to becoming the skater I am today. I couldn't have done all of it without Sailor Scary [a CJRG coach and CRG skater] and Princess Derby.
Little Bull: Playing and traveling with all of my best friends.
Mae Murder: When we (the juniors) played Nashville, I cleared the entire pack and got my jammer out. My other highlight is the game that I was captain for.
Princess Derby: The highlight of my junior derby experience was having Scary as a coach and learning what the adults did. Another highlight was when I convinced my best friend to start playing (Hail Skatin).
---
Why did you want to try out for CRG?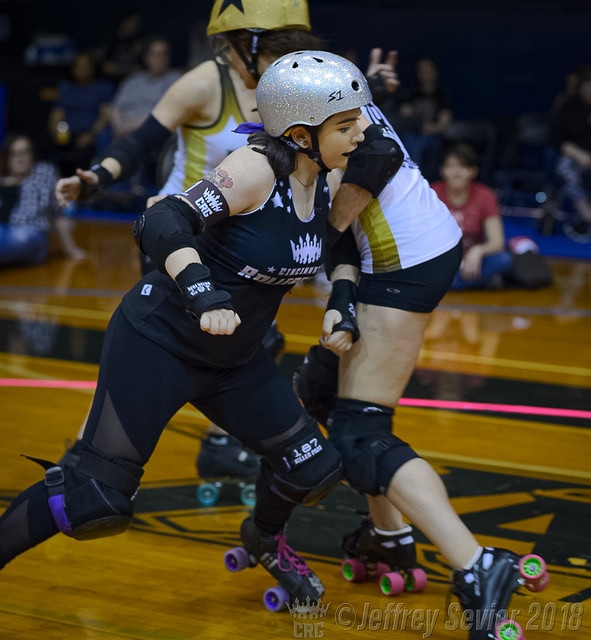 Ada Burnlace (left): I had been doing parades and volunteer stuff with CRG for years as a part of CJRG, so it just made sense.
CleoPAINtra: To return to one of the only sports I enjoy playing!
Hail Skatin: I have always been interested and thought that I could never do such a sport. So as I became better at skating, Princess brought me with her, and all I can say is everyone needs to take the risk. It's a "scary" sport, but it's so worth it.
Little Bull: I wanted to continue playing after juniors and I was moving to Cincinnati.
Mae Murder: I have always wanted to play with CRG.
Princess Derby: My mom had played on that team for years and it had always been a goal of mine to join.
---
What are the biggest differences between junior derby and adult derby?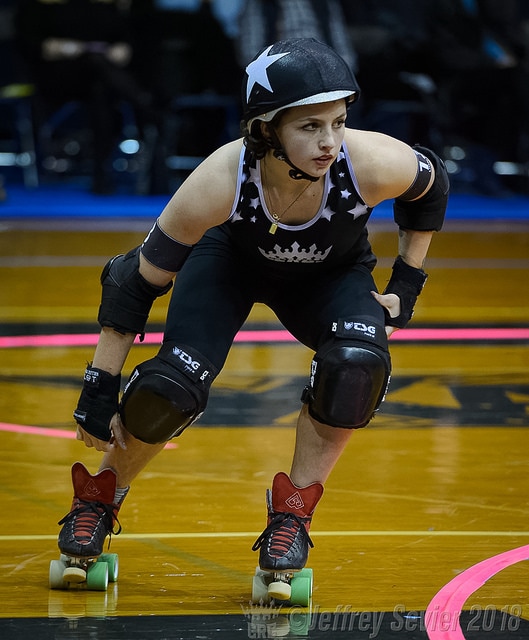 Ada Burnlace: Adult derby is slower but the hits are hard and it's much more of a team effort. When I jammed as a junior, I would often be recycled by one person, but now I get recycled by the whole wall.
CleoPAINtra: I guess the biggest difference that I found was that adult derby includes a lot more strategy, while junior derby is more like "go rogue." I enjoy both.
Hail Skatin: The biggest difference for me was the intensity level. It gets more competitive as an adult, which in my opinion makes it all the better.
Little Bull (right): It's taken a lot more seriously. It's a lot harder and more aggressive.
Mae Murder: How calm and supportive the team is. None of the drama that plagues adolescents.
Princess Derby: Adult derby is more intense. You definitely have to have more awareness.
---
What's been the most memorable experience of your adult derby career so far?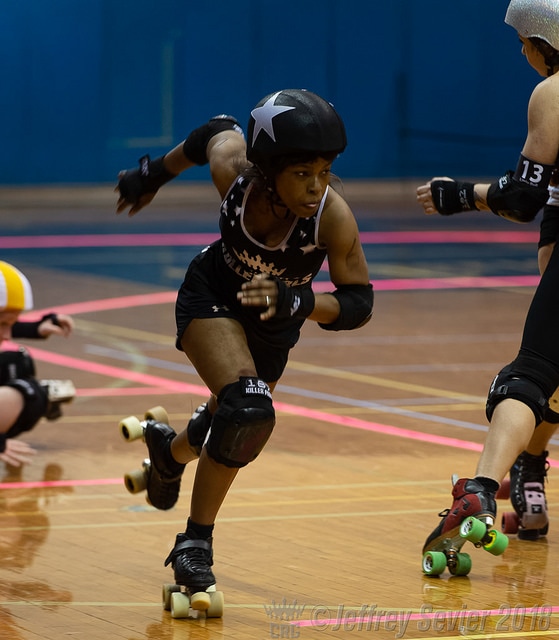 Ada Burnlace: During CRG's fall season, I had an incredible jam where I scored 15 (or around there) points. I really struggle with jamming, so to have such a good jam felt like validation for my work.
CleoPAINtra (left): Receiving my first MVP jammer award! Never got one in junior derby.
Hail Skatin: Becoming part of the WFTDA team, and getting to play with my best friend yet again.
Little Bull: The CRG game on April 7 I think that I played my best, and it felt awesome.
Mae Murder: The first time that I was announced out onto the track.
Princess Derby: Making the charter.
---
What are your derby goals?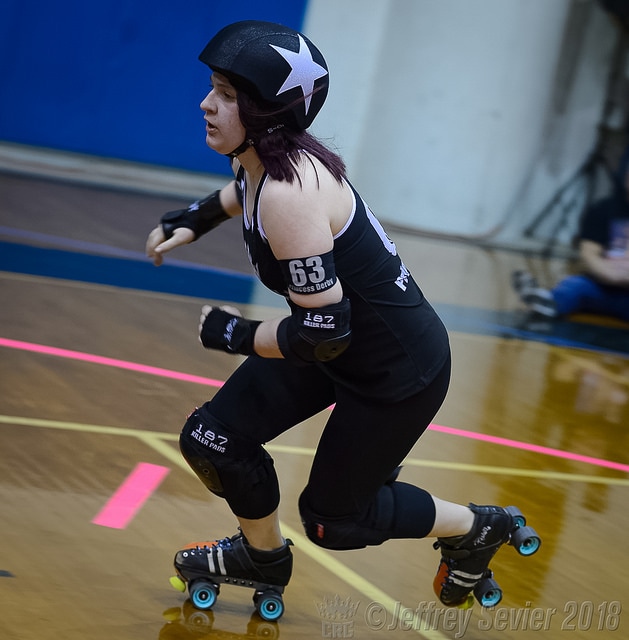 Ada Burnlace: My goal is to help shape the future of roller derby, jam more, and hold that freakin' inside line.
CleoPAINtra: Work on my endurance and physical strength, footwork, and understand the strategy behind everything.
Hail Skatin: To become a part of the charter someday, and improve my skills with every practice.
Little Bull: To become a stronger skater.
Mae Murder: To be the best that I can be.
Princess Derby (right): My goal was to make the charter. Now my goal is to improve as much as I can.
---
What advice would you give to a junior skater who wants to keep playing as an adult?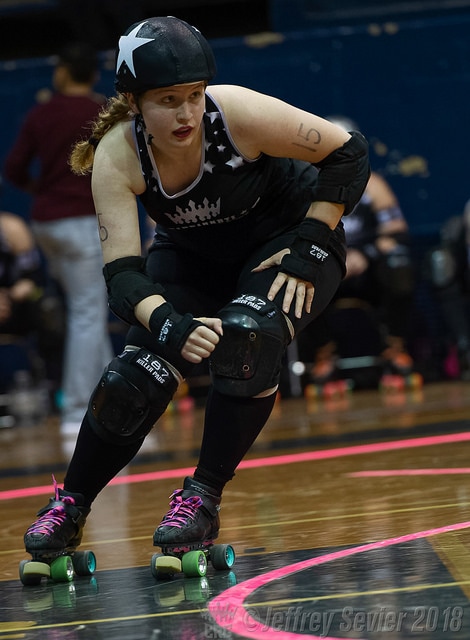 Ada Burnlace: Don't give up. Not on the track or off of it. Some days it'll be easier than others, but you can do it.
CleoPAINtra: Cross-train and take time to understand the sport; it can get complicated.
Hail Skatin: Keep going! Your hard work will pay off!
Little Bull: Be ready to learn and don't be afraid!
Mae Murder (left): Work hard. Take advice from your teammates.
Princess Derby: Work hard and make sure you have track awareness.
---
What's something else you want people to know about you?
Ada Burnlace: I'm now a coach of the Cincinnati Junior Rollergirls with Mae Murder.
CleoPAINtra: I'm a biological science major at Xavier University and an aspiring physician-researcher. I really enjoy hiking, hanging out with friends, and learning (I make about 10 Google searches a day… I'm not sure if that's normal). I'd really love to visit Egypt someday. I love listening to music and playing music on the viola and cello.
---
Anything else you want to add?
Ada Burnlace: Roller derby will always leave you very different from when you first found it, no matter what age.
---
See these skaters in action at Star Wars Night on April 28 and the home season finale, Pride Night, on May 19. For more information about the Cincinnati Junior Rollergirls, visit www.cincinnatijuniorrollergirls.com.