A funny thing happened during the coronavirus pandemic. Even though skating rinks (and pretty much every other business) had to temporarily close their doors, roller skating suddenly became popular again, as people began looking for ways to get out of the house and stay active in a way that could maintain proper social distancing. Here at the Cincinnati Rollergirls' virtual headquarters, we've received numerous messages from new skaters asking where to roller skate outside in Cincinnati. If you have the same question, you're in luck: We have answers! 
To safely roller skate outside in Cincinnati, first, make sure you have proper-fitting and well-maintained skates with outdoor wheels plus proper gear. That includes a helmet, elbow pads, knee pads and wrist guards at minimum, plus a mouth guard if you want to be extra careful. Even our most seasoned skaters fully gear up when outdoor skating — you never know when a wayward stick or pebble might send you flying.
For optimal protection for both recreational skating and roller derby, we recommend skateboard-style helmets and pads made by brands such as Triple 8 and Pro-Tec, which you can find at most sporting goods stores and online. Other popular brands that many roller derby skaters wear include S1 helmets and 187 Killer Pads.
If you're in the market for your first set of skates and gear, we highly recommend visiting the skate shop at our practice rink, The Place — they'll make sure you get the right skates, wheels and gear for outdoor skating or any other kind of skating you want to do.
Read on to learn more about nine of our skaters' favorite places to trail skate! 
Little Miami Scenic Trail, Milford Trailhead to Fifty West Brewing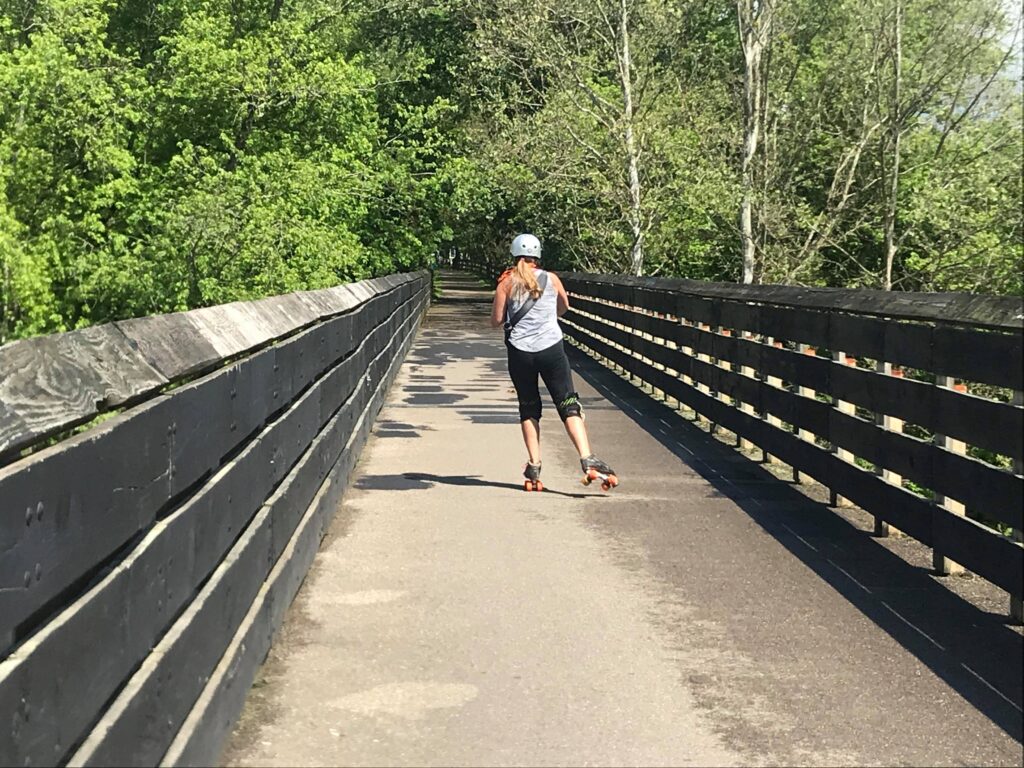 This approximately 5-mile stretch of the 78-mile Little Miami Scenic Trail is perfect for a leisurely endurance skate, says Wicket Widget. Plus, did we mention Fifty West Brewing? A new trail extension connects directly to their new burger bar and beer garden, which is slated to include outdoor dining, a futsal court, green space for outdoor events and a sand play area for kids. Get more info on the Little Miami Scenic Trail here.  
Loveland Bike Trail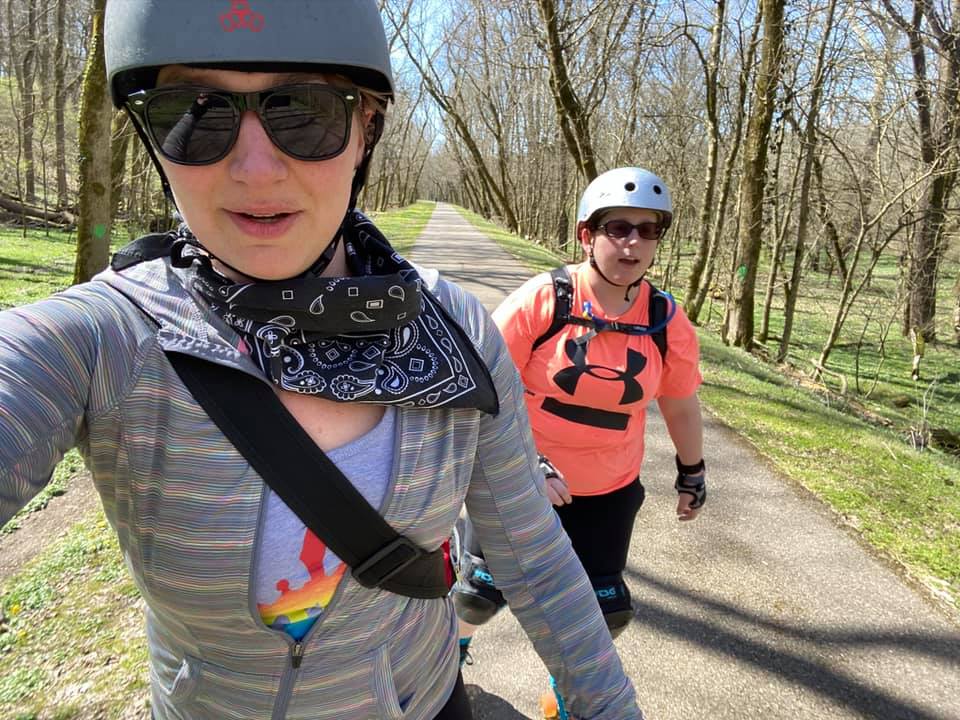 This popular trail, also a portion of the Little Miami Scenic Trail, can get crowded. But it thins out a few miles in — and it's worth going the distance.   
"I love being close to the river and all of the beauty of the trail," says Sailor Scary. "There's so much history along the trail as well, such as the southernmost point of the Underground Railroad in this area and an old bullet factory."  
And Wicked Widget points out that after you skate (and once it's safe to do so), you can treat yourself to ice cream from Loveland Sweets or a cold beer from Narrow Path Brewing. (Or both. We don't judge.) Get more info about the Loveland Bike Trail here.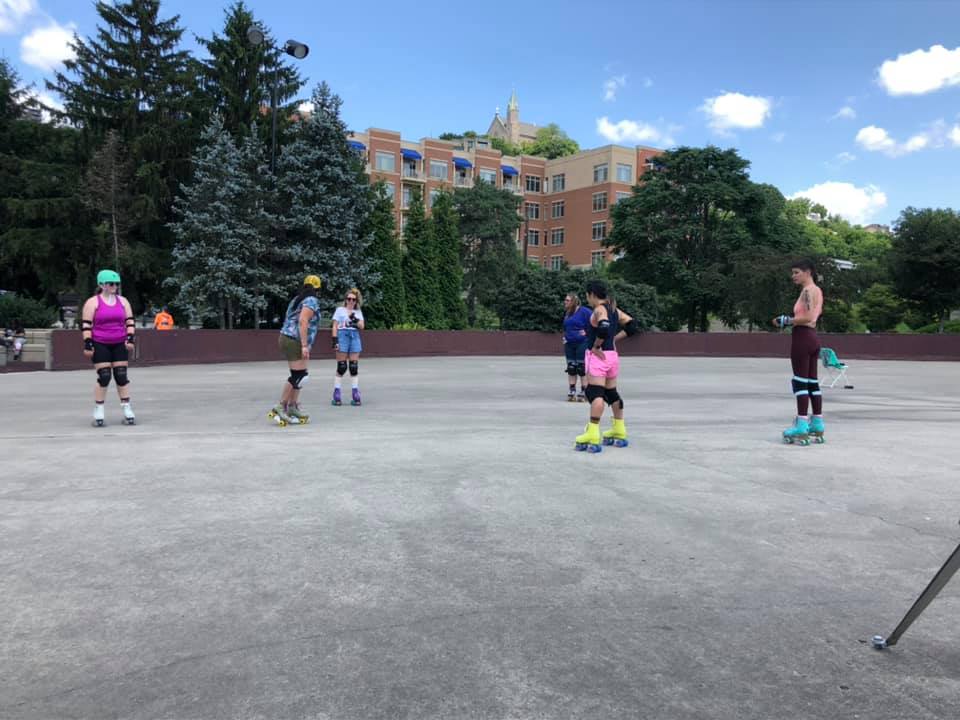 Ohio River Trail and riverfront skating rink, Downtown Cincinnati 
This 4.6-mile stretch of the Ohio River Trail winds through Theodore Berry International Friendship Park, Sawyer Point, Yeatman's Cove, and Smale Riverfront Park along the Ohio River. "I like Smale/Friendship because it's so scenic!" says Jackie the Ripper. There's a lot to see both on this trail and off (once you're off-skates), including gorgeous flower gardens, fountains, a labyrinth, kids' play areas. Get more info about the Ohio River Trail here and view a map here. 
Plus, did you know there's a huge outdoor skating rink right next to the Montgomery Inn Boathouse? It first opened as a skating rink in the '80s and closed after roller skating declined in popularity, but skaters of all sorts re-discovered it during the pandemic. It's open to the public whenever the Montgomery Inn isn't renting it out for special events. (IMPORTANT: If you're skating here, park in the Friendship Park parking lot or on the street, NOT in the Montgomery Inn's parking lot.)
Wasson Way, Cincinnati 
Wasson Way is part of CROWN (the Cincinnati Riding Or Walking Network), which eventually will create a 34-mile trail loop. Currently, the Wasson Way trail runs for 3.5 miles from Old Red Bank Road at the edge of Ault Park to Montgomery Road at the edge of Xavier's campus. This freshly paved, mostly flat trail is great for beginners. Get more info and view a map on the Wasson Way website.
Lunken Airport Bike Path, Cincinnati 
This wide, paved, 5-mile loop around Cincinnati's Lunken Airport is mostly flat, but there are two fairly steep hills onto the levee that protects the airport from flooding, so use caution here if you're a beginning skater. This trail also offers great views of the Ohio River and planes taking off and landing at the airport. Get more info about the Lunken Airport Bike Path here. 
Otto Armleder Memorial Park, Cincinnati  
This smooth, wide, 1.9-mile trail is a loop, making it ideal for beginners or a chill skate with friends, says Wicked Widget. Armleder also features a 1-mile trail that connects to the 5-mile Lunken Airport Bike Path, plus a dog park, playground and soccer fields. This low-lying park is prone to flooding, however, so check the status before you go. Get more info about Otto Armleder here. 
Summit Park, Blue Ash 
A short, paved, shared trail circles the massive Summit Park, which includes playgrounds, a dog park, an observation trail and several restaurants. If you want to venture beyond Summit Park, Blue also has an entire network of walking and biking (and roller skating) paths. Check out the map here and get more info about Summit Park here. 
Voice of America Park, West Chester 
Another good trail for beginners, this 1.4-mile loop around a 35-acre lake includes two relatively easy hills, say Wicked Widget and Sailor Scary. VOA Park also offers a cricket field, a dog park, fishing, birding and boating. Get more info about VOA here. 
Rentschler Forest MetroPark, Hamilton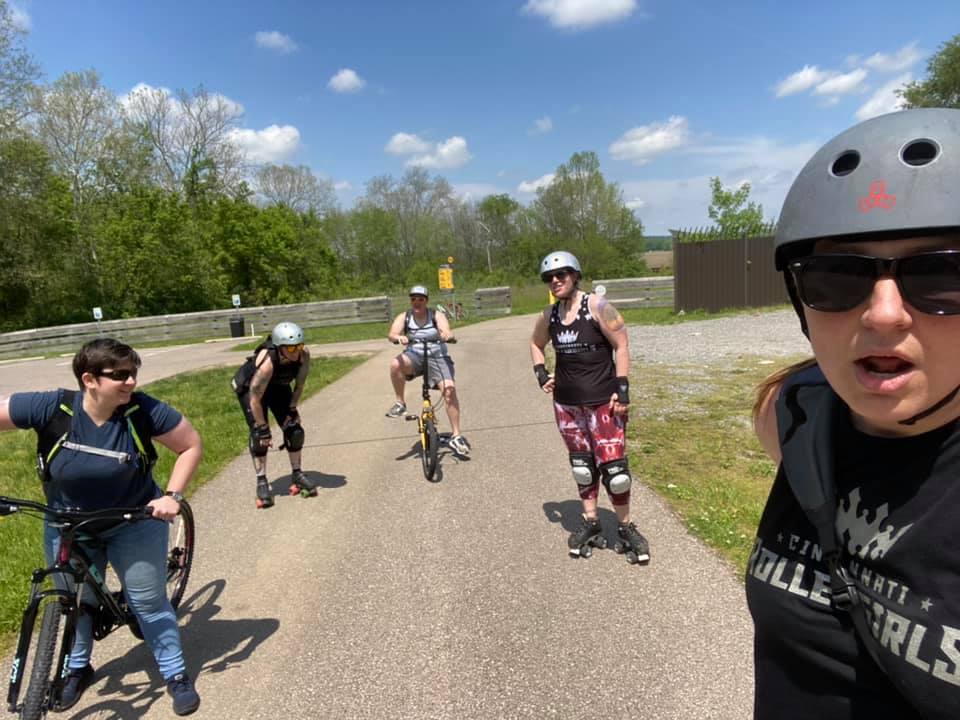 This scenic, 9.7-mile trail, located in a 400-acre park about 4 miles north of downtown Hamilton, features a big hill that more advanced skaters can fly down fast. Plus, if you time it right, you might catch a flock of sheep — either the fluffy kind or the CRG kind — or a stunning sunset, say Wicket Widget and Sailor Scary. Get more info about Rentschler Forest here.  
Looking to meet up with other local skaters? We highly recommend joining the Cincinnati Skate Collective, founded by CRG skater Jackie the Ripper, which organizes regular meetups. Find them on Facebook and Instagram. 
Wherever you decide to trail skate in Cincinnati, stay safe and have fun!
This article was first published in May 2020 and updated in April 2022.